Naked Battle is the 457th chapter of Hiro Mashima's Fairy Tail.
Brandish and Lucy converse while taking a bath when the former suddenly begins to attack Lucy on realizing that she is Layla Heartfilia's daughter. Lucy manages to escape with the miniaturized Marin and immediately takes him out, after which she eventually teams up with Cana to face the Shield of Spriggan. In the skies, though, Erza regains her ability to Requip and finally begins her counterattack against Ajeel, all the while the Flying Dragon Squad completely wipe out the Ajeel Squad.
Summary
Immediately after Lucy joins her in the bath, Brandish states that she recognizes Lucy, but does not remember why. Lucy tries to come up with a plausible explanation, but they are all rejected. Right after, Brandish asks the Fairy Tail Mage to wash her back, with the latter being only forced to play along. As the Shield of Spriggan then casually inquires about Lucy's personal details, Lucy realizes that Brandish has let her guard down and readies herself to stab her with Aquarius' broken key, but halts when Brandish mentions Layla's name. Upon confirming that Lucy is indeed Layla's daughter, Brandish immediately begins to shrink the building.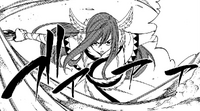 Lucy desperately runs out of the apartment, only to be confronted by Brandish, who refuses to state her connection with Layla. Right at that moment, Cana arrives at the scene and teams up with Lucy, who reveals that she has captured the miniaturized Marin, proceeding to defeat him by stomping on him. The duo then faces the Shield of Spriggan together. Above Magnolia, Erza is able to fight back against Ajeel as she is able to Requip again thanks to Marin's defeat. Concurrently, the Flying Dragon Squad's battle against the Ajeel Squad ends with the former's victory. When Bakel tries to continue fighting, Natsu sends him flying right through Ajeel's flagship, distracting the Desert King. Heartened to see her comrades' triumph, Erza uses this chance to land a devastating strike on her opponent.
Characters in Order of Appearance
Battles & Events
Magic, Spells, and Abilities used
Magic used
Spells used
Abilities used
Weapons used
Armors used
Items used
Community content is available under
CC-BY-SA
unless otherwise noted.