Orders is the 456th chapter of Hiro Mashima's Fairy Tail.
The battle for Magnolia progresses as Fairy Tail's forces clash against the Empire's. While the situation seems grim for the Guild with skirmishes taking place in the city itself, the members refuse to give up hope. Meanwhile, Brandish turns up at Lucy's house and forces the latter to take a bath with her, the elite Mage's motives remaining a mystery.
Summary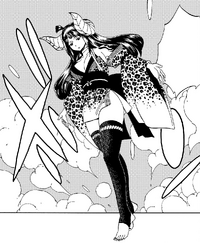 While protecting Magnolia from the Empire, the Flying Dragon Squad faces the Ajeel Squad. Unable to estimate how many foes they might have to face later, Natsu's group decides to fight cautiously and to conserve their strength. Meanwhile, inside the city, Gray and Juvia prevent Wall's squad from advancing further, They are soon aided by the Strauss sibling, Mirajane revealing that she saved Seilah by absorbing her, also allowing her to use the Demon's Curse, Macro, freely.
Aboard Ajeel's flagship, Erza is completely outmatched by her opponent, also finding herself unable to use Requip. Realizing her dire condition, Mavis tries to have Warren contact the Osprey Squad, only to find the Mage too devastated by their situation to obey. But Max scolds Warren and manages to drag him out of his despair, allowing Mavis to communicate with her subordinates.
Simultaneously, Lucy finds Brandish in her bath. The Shield of Spriggan invites the Fairy Tail Mage to join her, but she is rejected. She then threatens Lucy by claiming that she could shrink Magnolia in an instant, forcing the girl to enter the bath.
Characters in Order of Appearance
Battles & Events
Magic, Curses, Spells, and Abilities used
Magic Used
Curses Used
Spells Used
Abilities Used
Weapons used
Armors used
Items used