Defending Magnolia is the 455th chapter of Hiro Mashima's Fairy Tail.
Fairy Tail continues to protect Magnolia from the Alvarez Empire's assault, however the battle becomes seemingly relentless as Freed's Jutsu Shiki barrier is compromised, allowing the Spriggan 12 to freely enter Magnolia. As they face the might of three arrived Spriggans and their accompanying squads, Warren reveals that from the other three cardinal directions, Alvarez is attacking with three more Spriggans each. With the combined might of the Spriggan 12 ready to destroy them, Fairy Tail can only despair.
Summary
While Erza faces Ajeel, the Flying Dragon Squad heads off to confront the Ajeel Squad. But, thanks to Bisca taking out most of Ajeel's fleet, Freed is now able to maintain his barrier without much trouble.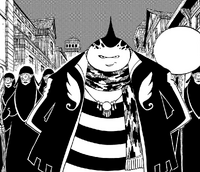 But the situation soon starts heading downhill. In her battle against Ajeel, Erza soon finds herself outmatched. Simultaneously, Freed's barrier is compromised and Wall enters Magnolia with his own team. Fairy Tail immediately mobilizes the rest of its forces. In her apartment, Lucy gets ready to join the battle, but notices a strange presence in her bathroom. She enters it to discover Brandish and Marin, the former nonchalantly taking a bath.
In the Guild building, Warren informs Makarov and Mavis of the presence of the three Shields of Spriggan. But the situation becomes even more dire as the Magic Radar signals the approach of three more armies from three different directions, completely surrounding Magnolia. To make matters worse, each is accompanied by three Shields. As she realizes that Fairy Tail will have to face the combined might of the Spriggan 12, Mavis begins to despair.
Characters in Order of Appearance
Battles & Events
Magic, Spells, and Abilities used
Magic used
Spells used
Abilities used
Flight
Magical Barrier Particle Nullifier
Swordsmanship
Weapons used
Armors used
Items used
Community content is available under
CC-BY-SA
unless otherwise noted.