Dragon Flight Force and Osprey Force is the 454th chapter of Hiro Mashima's Fairy Tail.
While Freed protects Magnolia from the Empire's fleet, the Flying Dragon and Osprey squads manage to take down most of the airships. Erza then invades the flagship to defeat its commander, Ajeel Raml.
Summary
The Empire's invading fleet open fires on Magnolia, but the assault is thwarted by the Thunder God Tribe, with Freed having set up a defensive barrier and his teammates exerting their Magic Power into him to maintain it. Meanwhile, Mavis orders the Flying Dragon and Osprey squads to move out. Bisca from the Osprey Squad, stationed at the East Forest, immediately begins to carry out her instructions while the Flying Dragon Squad, consisting of the three Dragon Slayers and their Exceed partners, begins to take down individual ships.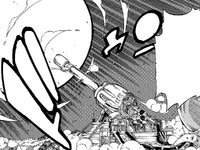 The flying trio is soon halted by their opponents' cannon barrage, unable to close in on the ships. At that moment, Bisca finishes charging Jupiter and unleashes it upon their enemy. Ajeel manages to block the shot and save his vessel, but the blast takes out most of the enemy's strike force.
Seeing that the flagship is still intact, the Flying Dragon Squad descends onto it to battle the commander, but the Dragon Slayers immediately begin to suffer from motion sickness. Ajeel mocks their condition and moves to finish them, but Erza arrives to save her comrades. While the Exceed carry their incapacitated partners to safety, the Fairy Queen Titania challenges the Desert King.
Characters in Order of Appearance
Battles & Events
Magic, Spells, and Abilities used
Magic used
Spells used
Abilities used
Weapons used
Armors used
Items used