Fight the Power! is the 448th chapter of Hiro Mashima's Fairy Tail.
With the return of Makarov, Fairy Tail begins to celebrate its revival. But Makarov soon stops these festivities and tells them about the danger posed by the Alvarez Empire. Undaunted, the members state that they will fight for their guild. Suddenly, Mavis appears in front of them and begins to inform them about Fairy Heart, claiming that they have a right to know about the object they are protecting.
Summary
With their quest to save Makarov being successful, all Fairy Tail Mages are finally reunited in the rebuilt guild building. The members greet their master while Erza states that she will resign in favor of Makarov. As they celebrate this joyous event, the members entertain themselves with small talk, asking each other about their activities during the past year.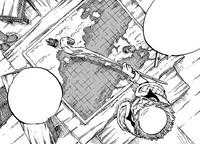 Glad to see everything back to normal, Lucy wonders about the Alvarez Empire's next move and hopes that their guild will be able to survive the upcoming war. Suddenly, Makarov calls for everybody's attention and apologizes to them for not only disbanding the guild, but also failing in his mission to negotiate a peace treaty with the empire. He informs them that an enemy worse than any they have faced before is about to attack them, but Natsu loudly proclaims that, with everybody's help, they will manage to overcome this calamity just like they have done in the past. Heartened by his words, the entire guild declares that they will stop the empire. Simultaneously, Gray realizes that a battle against Zeref will surely involve his sworn enemy, E.N.D.
Makarov then proceeds to try and tell them about Lumen Histoire, claiming that its real name is Fairy Heart. But before he can continue his speech, he is stopped by Mavis. As Erza wonders whether she is an ethereal body or the First herself, Mavis explains that Fairy Heart is Fairy Tail's most guarded secret, but that the members have a right to know why Zeref wants it. She then begins to recount her past and her pursuit of The One Magic with Zeref.
Characters in Order of Appearance
Battles & Events
Magic, Spells, and Abilities used
Magic used
Spells used
Armors used
Items used
Community content is available under
CC-BY-SA
unless otherwise noted.