The Land the Gods Abandoned is the 446th chapter of Hiro Mashima's Fairy Tail.
After securing Makarov and realizing that Emperor Spriggan is none other than Zeref, the rescue team try to escape aboard a Magical Vehicle, but are pursued relentlessly by Ajeel. He manages to destroy their transport, forcing the Fairy Tail Mages to face him in battle.
Summary
The revelation that Zeref is Emperor Spriggan astounds the rescue team. Makarov breaks down as he realizes that his efforts of the past year were useless, but his Mages reassure him that his toil was not in vain. Carla soon reminds them about their situation and stresses the urgency of escaping, with Mest remarking that he can only teleport them once more but they have to reach their drop-off point if he is to transport them to the Olympia.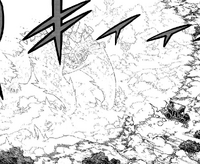 Suddenly, they are intercepted by Ajeel, who says that the land told him his targets' location. Makarov immediately gives the order to retreat and the others obey while Erza distracts their enemy. The group then gets into a Magical Vehicle and attempts to escape as Erza drives, but realize that Ajeel is hot on their tail atop a sand golem. Gray and Lucy climb onto the vehicle's roof and try to stall him. As Gray disintegrates the golem by turning it into ice, Lucy equips her Sagittarius Form Star Dress and shoots down the rest of the sand minions with her Star Shot.
Impressed by his opponents' skills, Ajeel traps the entire vehicle in quicksand, forcing the occupants to bail out. As he gleefully watches the Fairy Tail Mages flounder in the sand, Ajeel boasts that nobody has escaped this spell before and that Ishgar would soon belong to the Alvarez Empire. However, his joy is soon transformed into astonishment as Natsu evaporates the sand, allowing his friends to boldly face the Desert King. Natsu then claims that the fairies will protect Ishgar as he punches the astounded Shield of Spriggan.
Characters in Order of Appearance
Battles & Events
Magic, Spells, and Abilities used
Magic used
Spells used
Abilities used
Weapons used
Items used
Community content is available under
CC-BY-SA
unless otherwise noted.