Lone Journey II is the 417th chapter of Hiro Mashima's Fairy Tail.
Soon after Natsu and Happy set off on their journey to train, they run into Gildarts. The two Mages exchange news and Gildarts consoles the Dragon Slayer, even accepting his challenge, remarking on Natsu's growth since their last fight. The two part ways, only to meet up again as they had swapped bags by mistake, the misunderstanding sparking the usual brawl between them.
Summary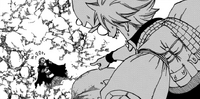 Travelling alone through a forest, a famished Gildarts is overjoyed to encounter a huge beast, only for his prey to be defeated by somebody else. Angrily looking for the culprit, Gildarts is surprised to see that it is none other than Natsu and Happy. The three joyfully exchange greetings and share the meat. Then follow the usual activities of taking a bath in a nearby natural pool of water and a naked fight between the two Mages. The three soon go to sleep.
Gildarts awakens in the middle of the night to find his two companions missing. He searches for them and soon finds them sitting near a waterfall, looking melancholic. He approaches Natsu and learns of the recent events, then consoles the Dragon Slayer.
The next morning, the two engage in a duel. Gildarts is impressed with Natsu's growth since their last battle. Suddenly, a distracted Natsu is captured by a gigantic creature and nearly becomes its food. Enraged, Gildarts attacks the monster, destroying the surrounding landscape in the process. He manages to rescue Natsu, but the boy is now too afraid to go up against the elder Mage.
They soon part ways and head off in opposite directions. After a long walk, Gildarts decides to take a breather when he realizes that his bag has been exchanged with Natsu's. Elsewhere, Natsu realizes the same thing, only to turn around and see Gildarts running towards him furiously. They soon get into their usual fight as Happy shrugs helplessly.
Characters in Order of Appearance
Battles & Events
Magic, Spells, and Abilities used
Magic used
Spells used
Abilities used
Community content is available under
CC-BY-SA
unless otherwise noted.