That Is the Power of Life is the 415th chapter of Hiro Mashima's Fairy Tail.
The dangers posed by Face and Acnologia are averted thanks to the Dragons. But they reveal that they had been killed by Acnologia long ago, only their souls surviving inside their children. They bid their wards farewell and depart in a blaze of light. Elsewhere, Natsu is comforted by Igneel's fading spirit and swears that he will defeat Acnologia someday.
Summary
With Face destroyed by the Dragons and Acnologia's withdrawal, Fairy Tail is finally safe again. Makarov laments that he wasn't courageous enough to unleash Lumen Histoire, but Mavis tells him that the time had not been right.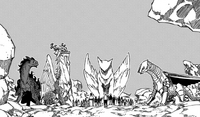 The rest of the Guild gathers at the ruins of Cube and the foster parents of the Dragon Slayers assemble before them. The humans feel greatly heartened by their presence while the Dragons are finally reunited with their wards, each expressing their joy in their own way. Skiadrum and Weisslogia explain that they manipulated Rogue's and Sting's memory to make them believe that they had killed their parents, allowing them to move forward and gain the benefits of having killed a Dragon.
The ancient beasts then explain that they were not really alive, having had their souls extracted from their bodies by Acnologia's Dragon Slayer Magic. Hence, they hid inside the bodies of their children to not only stop their Dragonization and await a chance to take down the Dragon King, but also to prolong their own lives. But, now that they had exited those vessels, they could not return.
The Dragons then tell the humans regarding the fallen Igneel, of his gallantry and loving nature, and ask them to never dishonor his name. Meanwhile, Natsu weeps beside his father's corpse, telling him of his achievements and mourning that he would never be able to share them with him. Hovering near the scene, Happy can only watch with tears streaming down his face.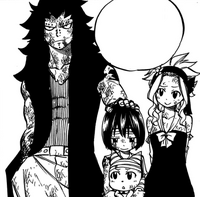 Back at the assembled group, the Dragons bid farewell to their foster children. Taking to the skies, they vow to uphold the covenant forged between Dragon and human four hundred years ago and protect mankind for all eternity, saying that the future would now be created by mankind. A bright flash, seen far and wide, signals their departure.
As Igneel begins to disappear too, his spirit encourages Natsu to cast aside his sadness and live his life his own way. Natsu staggers to his feet and yells at the skies that he will have his revenge on Acnologia. Completely fading away, Igneel tells Natsu to keep looking to the future. Finally, only Natsu is left there, tears staining his cheeks.
Characters in Order of Appearance
Battles & Events
Magic, Curses, Spells, and Abilities used
Magic used
Curses used
Spells used
Abilities used
Community content is available under
CC-BY-SA
unless otherwise noted.