Drops of Fire is the 414th chapter of Hiro Mashima's Fairy Tail.
After retrieving the Book of E.N.D., Zeref commends Mard Geer on his efforts, yet erases his existence as being unnecessary. Promising to bring Natsu more despair if he survives the terror of Acnologia, he departs with the Book. Meanwhile, Acnologia dominates in his battle against Igneel. Igneel speaks with Natsu telepathically and tells him the second reason for hiding inside the Dragon Slayer: to get a chance to defeat Acnologia. But, seeing himself outmatched, Igneel thanks Natsu for the time they spent together before he is killed by Acnologia's Dragon's Roar.
Summary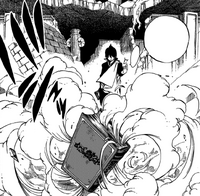 Gray, Natsu, Sting and Rogue glare at Zeref, who now holds the Book of E.N.D. Seemingly unaffected by the tense atmosphere, the Dark Mage congratulates the prone Mard Geer on his efforts, but states that the Demon can do no more and incinerates him after reverting him to his book form, even as he pleads to be allowed to fulfill Zeref's wish.
The onlookers are shocked, with Gray angrily exclaiming at Zeref's disdainful treatment of his own creation. Zeref merely states that Mard's usefulness was over, then tells Natsu that he had wanted to end their fight this day, but Acnologia had meddled once again. He goes on to say that, if Natsu survived this hopeless situation, he would give the Mage even more despair, then departs with the Book as the others can only watch without doing a thing.
Meanwhile, Acnologia overpowers Igneel in their battle and mocks his power. The Fire Dragon continues to fight as he telepathically contacts his son. He informs him about the second reason the Dragons entered their wards: to get an opportunity to defeat Acnologia.
Natsu immediately begins to head towards the battle to try and help his father despite the latter's protests of having underestimated the Black Dragon. In a last-ditch attempt, Igneel flies straight towards his opponent and manages to tear the Dragon King's left arm off, only to have half his torso ripped open. As he crashes to the ground, he praises Natsu on his growth since their separation and thanks him for the days that they spent together before being annihilated by Acnologia's Dragon's Roar. Bereft, Natsu can only scream his guardian's name in despair.
Characters in Order of Appearance
Battles & Events
Magic, Curses, Spells, and Abilities used
Magic used
Curses used
Spells used
Abilities used
Community content is available under
CC-BY-SA
unless otherwise noted.