The Tome of END is the 413th chapter of Hiro Mashima's Fairy Tail.
The Dragons return hope to the humans by annihilating Face. As the Fairy Tail members rejoice, Igneel tries to explain the Dragons' reasons for hiding inside the Dragon Slayers only to be interrupted by a revived Acnologia, and the two ascend again to battle. Meanwhile, Gray and Natsu continue their dispute over the Book of E.N.D. when it is snatched from Gray's hands by none other than Zeref.
Summary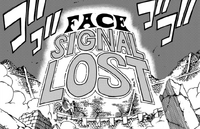 All the members of Fairy Tail cheer and heave sighs of relief as the Dragons obliterate Face from the face of the continent, reflected in the Face Control Panel showing that the signal to Face had been lost. Igneel triumphantly exclaims that the revival of E.N.D. had been successfully thwarted while Mard lies prone on the ground, dumbstruck at this development.
Even as Sting wonders how Weisslogia could be alive, Igneel explains that the Dragons had been sleeping inside their foster sons and had been released when the Slayers' hearts had begun to throb earlier during Acnologia's arrival. Igneel elaborates that they had sealed themselves inside their wards for two reasons; the first being to prevent their transformation into Dragons, which had happened to Acnologia. But, before he can expand on the second, Acnologia suddenly regains his fighting spirit and breaks free from under Igneel. Telling Natsu to get E.N.D.'s Book, Igneel flies off after the Dragon King.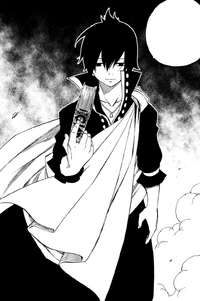 Gray picks up the book and tells Natsu that he had made a promise that he would destroy it no matter what, while Natsu just glares at him. Meanwhile, high above them, Igneel and Acnologia continue to clash. Igneel tells his opponent to leave the humans alone as the E.N.D. he feared is no more, but is told that Acnologia was never afraid of the Demon, but rather desires total annihilation, hence his actions.
As Gray and Natsu continue their silent face off, Rogue and Sting despair at the situation. Suddenly, the Book disappears from Gray's hands through no action from either him or Natsu. A voice says that it has reclaimed its property and the four Mages look towards its source and behold Zeref, who says that the Book is very precious to him.
Characters in Order of Appearance
Battles & Events
Magic, Curses, Spells, and Abilities used
Magic used
Curses used
Spells used
Abilities used
Items used