Soaring in Ishgar is the 412th chapter of Hiro Mashima's Fairy Tail.
With Mard Geer defeated, Gray and Natsu argue about whether to destroy E.N.D.'s book or hand it to Igneel when, suddenly, Face is activated. As Magic begins to disappear from the land and the humans begin to despair, Igneel lands on the ground atop a seemingly defeated Acnologia and tells them to not give up hope as the other Dragons, including Skiadrum and Weisslogia, start taking out the Face bombs, something which even Blue Pegasus' Christina couldn't do.
Summary
With Mard Geer defeated, Natsu collapses and Gray rescinds his Ice Devil Slayer Magic; the former says that they won, but the latter says that it isn't over until E.N.D. is destroyed. Saying that Igneel told him to get the book, Gray says that he must destroy, which prompts Natsu to ask if he's joking. Explaining that E.N.D. created Tartaros and that its Zeref's most powerful Demon, Gray states that they should destroy it, but Natsu just repeats that he made a promise with Igneel and demands that Gray give him the tome, however Gray merely tells the Dragon Slayer to make him and the two stare each other down menacingly. Their tension is broken, however, by the activation of Face, which, alongside everyone's regret at being unable to stop it, begins to wipe out Magic across the continent, removing fire and transportation from everyone's everyday lives, as well as strength from Mages. Meanwhile, Mard Geer monologues that when Magic disappears, E.N.D. will be reborn and humans will not have the ability to resist his will, which causes Natsu to scream in anger.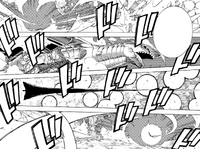 At that moment, Acnologia falls to the ground badly wounded, much to the surprise of those present, and Igneel uses his body as a podium for victory, telling the human race not to give up. Concurrently, as the Mages of Blue Pegasus attempt to destroy a Face bomb in the Christina, Grandeeney telepathically tells the Mages to move their airship as she rushes through and obliterates the bomb with ease. Across the continent, more and more Faces disappear due to the arrival of other Dragons, such as Metalicana, and even the supposed deceased Skiadrum and Weisslogia (much to their respective foster childrens' surprise). As Igneel tells everyone that the released Dragons are dancing unto the old continent of Ishgar, everyone counts their blessings as to what the Dragons have done for them.
Characters in Order of Appearance
Battles & Events
Magic, Curses, Spells, and Abilities used
Magic used
Spells used
Abilities used
Items used
Community content is available under
CC-BY-SA
unless otherwise noted.