Memento Mori is the 410th chapter of Hiro Mashima's Fairy Tail.
Gray and Natsu continue their struggle against the Underworld King, but neither side is able to gain the upper hand. Finally tired of the fight, Mard explains the origins of Curses and their superiority to Magic, casting his ultimate Curse, Memento Mori, to erase the very existence of the Fairy Tail duo. With the battle apparently over, he says that all he needs to kill Zeref with the Curse is E.N.D.
Summary
Gray and Natsu's battle against Mard continues with neither side showing any signs of letting up. Although they manage to land a few blows on him, Mard seems completely unfazed and easily pushes them back. But he is also unable to do any real damage as the duo are able to neutralize his Curse without any particular difficulty.
In the course of the fight, the Fairy Tail Mages trick Mard by hiding Natsu in Gray's ice, which allows him to land a Fire Dragon's Brilliant Flame directly on his face. Inspite of this, the Demon comes out completely unharmed, making his opponents wonder whether he is invincible.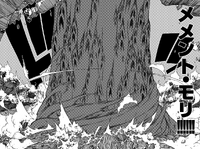 Mard commends them for amusing him with their futile tactics, but claims that Curses would always be superior to Magic. He goes on to explain that all Magic was born from a singular source. As Magic developed into the many forms that exist, E.N.D. created a new possibility for Magic, one whose source of power would be the negative emotions of all living beings, Curses.
Natsu begins to tell him that Magic would shape the future even if Curses created the past, but Mard starts to cast a new Curse, causing a dark mist to swirl around his enemies. The two find themselves immobilized and Mard says that Curses are the superior power whereas Magic has no future. He bids them fall into Purgatory by his ultimate Curse that he created to kill Zeref himself, Memento Mori. With the two caught up in the Curse, Mard clarifies that, to kill an immortal being like Zeref, one has to erase the very concepts of life and death, which is what Memento Mori does, its victims being neither alive nor dead. They are completely erased, becoming nothing.
His opponents seemingly defeated, Mard smirks and says to himself that he has finally been able to complete Memento Mori and that the only thing left to do to kill Zeref is the resurrection of E.N.D.
Characters in Order of Appearance
Battles & Events
Magic, Curses, Spells, and Abilities used
Magic used
Curses used
Spells used
Abilities used
Community content is available under
CC-BY-SA
unless otherwise noted.