The Definitive Demon is the 408th chapter of Hiro Mashima's Fairy Tail.
Gray continues assailing Mard Geer with a bombardment of attacks from his newly gained Ice Devil Slayer Magic until the Underworld King is shielded by Jiemma, who has also recently gained the power of Demons. The Twin Dragons of Sabertooth take on their former master as Natsu and Gray get ready to face Mard Geer, who takes on his true form after 400 years.
Summary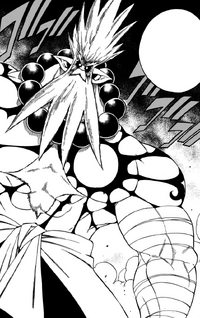 Gray interrupts Natsu and the Twin Dragon's battle against the Underworld King, who is astonished to see Gray's Magic. As Rogue and Sting are awed by this new development, Gray wastes no time in attacking Mard. The Demon realizes that the Magic he is facing is Silver's and remarks that he knew of Silver's true intentions, but never realized they'd manifest in such a form.
The battle continues, but Mard's Curse proves ineffective against Gray's abilities, and the Mage easily pushes his opponent back, exclaiming that he will annihilate the Demons for the sake of his father, surprising Natsu, who knows nothing about Gray's battle against Silver. Gray moves in to finish Mard with an Ice Devil Slayer technique, but a new opponent, Jiemma, enters the battle and protects Mard, slamming Gray away. The former Sabertooth Master is revealed to have been transformed into a Demon, much like his daughter. Mard claims that his newest servant's powers far outstrip that of any one of the Nine Demon Gates.
Jiemma ridicules Mard for calling him his servant and promised to deal with him after defeating the Twin Dragons, immediately moving towards the two. The two are visibly shaken, but Natsu yells at them to toughen up and tries to block Jiemma's advance, only to be blown away easily by the latter. But Natsu's words have given the other two Dragon Slayers courage and they move in to attack Jiemma, who professes his desire to bury them with his own two hands.
As the three battle, Rogue and Sting tell their allies to leave Jiemma to them and focus on the Underworld King. Gray remarks that Mard has no more soldiers to hide behind, but Mard rebukes him for boasting too early. Natsu notices that his wounds have healed, while the Demon says that Gray's newfound power would not work on his true form, subsequently revealing his Etherious Form and his true name, Mard Geer Tartaros. Gray and Natsu team up and Natsu tells their enemy that they will bring him down in Fairy Tail's name. He accepts their challenge and calls their battle the final one.
Characters in Order of Appearance
Battles & Events
Magic, Curses, Spells, and Abilities used
Magic used
Curses used
Spells used
Abilities used
Community content is available under
CC-BY-SA
unless otherwise noted.