00:00 is the 404th chapter of Hiro Mashima's Fairy Tail.
Even after losing her five senses, Erza stands, rushing to take Kyôka down. The two fighters keep clashing, with Erza's pain being amplified by Kyôka's Curse, but it is not long before Erza finds an opening to summon two swords and slash the Demon with them. As Erza falls right after taking Kyôka down, it is Minerva that delivers the killing blow to the female Demon. This is proven to be futile as the timer reaches zero, with Magic soon to disappear from the continent.
Summary
Unable to comprehend why Erza can still stand, Kyôka reiterates that she stole all five of her senses, as well as maximized her sense of pain. She is then kicked by Erza, much to the pleasure of the Fairy Tail Mage's onlooking friends, which causes Kyôka to question how she is able to be located by the senseless woman. As the Exceeds ponder if Erza has awakened some sort of sixth or seventh sense, Happy chimes in and merely says that the reason why she is still able to fight back is simply because she's Erza.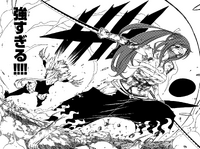 Ignoring her pain, Erza continues to pressure Kyôka, which enrages her to the point of accelerating Face's timer even more; she deals Erza a blow which, due to her enhanced sense of pain, equates to the feeling of her torso being half blown away. Calling Erza insolent and repeatedly extorting her sensitivity, Kyôka continuously increases her own strength and deals massive damage, until, that is, Erza retaliates by kicking Kyôka in the face. Confused, Kyôka questions whether Erza feels pain or fear and is then defeated by her, stating as she is taken down that Erza is just far too powerful.
As Kyôka falls Face's timer nears zero, but Minerva swaps places with the immobile Erza and grabs her thrown katana; she runs over to Kyôka and impales her, but questions the dying Etherious' smile. Everyone then, sans Franmalth, who expresses glee, watches as Face's timer reaches zero and it activates.
Characters in Order of Appearance
Battles & Events
Magic, Curses, Spells, and Abilities used
Magic used
Curses used
Spells used
Abilities used