The Fire Dragon's Iron Fist is the 402nd chapter of Hiro Mashima's Fairy Tail.
Seeing the power of Natsu and the two fighting Dragons around him, Mard Geer makes the firing of Face Tartaros' first priority, and commands Kyôka form an Organic Link with the device to speed up it's firing. Doing so despite the move forfeiting her life, Kyôka succeeds in accelerating Face and, having entered her Etherious Form, moves to continue her fight with Erza.
Summary
Having been launched towards Mard Geer by Igneel, Natsu swiftly punches the confused Underworld King and sends him flying backwards, the Demon seemingly shocked to hear that Natsu is the son of a Dragon. Natsu yells that he will take the Book of E.N.D. away from Mard and put an end to Face, and continues his assault on the man, who uses his Thorn Curse to try and stop Natsu in his tracks; Natsu however dodges all of the spines and hits Mard flat in the face with Fire Dragon's Iron Fist just as Igneel does the same above to Acnologia.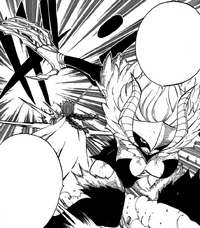 Flung back once more, a smiling Mard telepathically contacts Kyôka in the Face operation room and tells her to merge her body with Face's controls, as doing so will speed up the charge of the Lacrima activating Face and make the device fire sooner, wiping out both the Mages and Dragons. The firing of Face will also allow E.N.D. to revive, and thus secure Tartaros' victory. At first, Kyôka is hesitant and points out that merging with Face will forfeit her life, though, after Mard questions the depths of her loyalty, the Demon woman agrees to the plan. Determined to see Tartaros' plans through to the end, Kyôka leaps up to the Face Lacrima and proceeds to merge with it, much to the shock of Erza and her companions below.
The use of the Organic Link indeed speeds up Face's countdown timer, but also provides Kyôka with a boost in Curse Power and allows her to enter her Etherious Form. Now not having any fear against fighting Erza due to her inevitable demise, Kyôka flies at the Fairy Tail Mage and slashes her armor to pieces in the blink of an eye, completely overwhelming the redhead.
Characters in Order of Appearance
Battles & Events
Magic, Curses, Spells, and Abilities used
Magic used
Curses used
Spells used
Abilities used
Armors used