Tartaros Arc, Part Five: Ultimate Pain is the 395th chapter of Hiro Mashima's Fairy Tail.
Juvia's fight comes to an end as Sting and Rogue continue to battle with Mard Geer. As Erza and Minerva continue towards Cube's control room to stop Face, Torafuzar and Tempester decide to go all out in their fight and unleash their Etherious forms. However, Natsu and Gajeel in turn reveal their dual Dragon Slayer modes, continuing the fight on equal ground.
Summary
Having successfully defeated Keyes, an exhausted and injured Juvia collapses to the ground as Torafuzar and Tempester remark that Keyes' Magical Barrier Particle body will have grievously ailed her. Despite her wounds, Juvia states that she wants to see Gray, and Lucy, having come to her aid, promises her that they will soon reunite.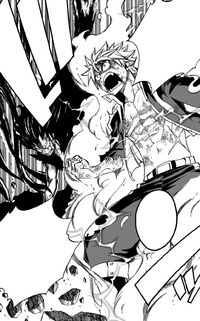 Meanwhile, Mard Geer continues his battle against the Twin Dragons of Sabertooth, with the Underworld King commenting that they are the first mere humans that have managed to stay on equal terms with him. Across Cube, Minerva worries about the duo as she and Erza continue towards the control room under the guide of Franmalth. Lector and Frosch follow smiling, happy to see Minerva worrying about their friends, whilst Panther Lily is shocked when they mention that Minerva is actually a brilliant cook.
With Panther Lily worrying about Gajeel, the Iron Dragon Slayer continues to face Tempester and Torafuzar alongside Natsu. Having grown bored and deciding to take things seriously, the two Demons decide to turn into their Etherious forms, shocking Lucy, who begins to worry about her guildmates' safety. However, a smiling Natsu and Gajeel also decide to step up a notch, entering Lightning Fire Dragon Mode and Iron Shadow Dragon Mode respectively. Natsu and Lucy though have yet to see Gajeel's new form, and question the man on it, with Natsu and Gajeel slowly beginning to bicker about which of them has the stronger upgrade in power. Making a bet to see who can beat their opponents first with the loser writing the winner a song, Natsu and Gajeel launch their attack, taking Torafuzar and Tempester by surprise and pushing them back. Continuing their onslaught with a flurry of powerful strikes, a now unnerved Torafuzar remarks that the two are like Demons themselves. However, Natsu and Gajeel's next strikes hit each other, the duo still completely determined to beat the other and win their bet, an action that shocks both Torafuzar and Lucy.
Characters in Order of Appearance
Battles & Events
Magic, Curses, Spells, and Abilities used
Magic used
Curses used
Spells used
Abilities used