Juvia vs. Keyes is the 394th chapter of Hiro Mashima's Fairy Tail.
Fairy Tail continues their battle against Tartaros. Lucy watches as Natsu and Gajeel struggle against Tempester and Torafuzar, while Juvia battles Keyes. The Necromancer reveals that he was aware of Silver's true intentions and traps Juvia, seemingly obliterating her. However, Juvia, in her water form, blows Keyes' body up from inside, defeating him. Before Silver vanishes, he passes his Ice Devil Slayer Magic to Gray.
Summary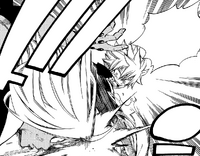 In the midst of the battle, Natsu is seen punching Tempester with his fist set aflame. However, seemingly unfazed, Tempester returns the favor and sends an explosion towards Natsu, which the Fire Dragon Slayer barely blocks. Gajeel and Torafuzar praise each other's prowess and Lucy watches on, worried that the two are having such hard time. At the same time, Juvia takes several hits from Keyes while trying to contact Silver, however, Telepathy seems to be no longer in effect. She wonders if this is really the right thing to do and Keyes begins explaining that he knew that Silver wanted to rebel against them, realizing that it was his anger and a desire for revenge that allowed him to go forward.
Juvia is disgusted to see that Keyes thinks of humans as mere tools and launches an attack against him, however, Keyes avoids it and traps Juvia instead. Seeing this, Lucy attempts to get up, but is soon stopped by a skeleton that bears down on her. Meanwhile, Keyes continues to bait Juvia, telling her to cut the bonds between a father and a son, which Juvia, crying, refuses. The Demon belittles humans, claiming that their feelings get in the way of reason and Juvia disappears in an explosion of a black mass, much to her comrades' shock. However, Keyes soon notices something strange and Natsu and Gajeel, surprised, realize that Juvia entered the enemy. Blowing up Keyes' body, Juvia reappears, claiming that even if people physically vanish, their bonds will not. Crying, Juvia continues to apologize, but Silver, contacting her one more time, states that he can finally go to heaven, leaving Gray in Juvia's hands. As Silver vanishes, Gray gains his Ice Devil Slayer Magic, claiming that with this, he will defeat E.N.D.
Characters in Order of Appearance
Battles & Events
Magic, Curses, Spells, and Abilities used
Magic used
Curses used
Spells used
Abilities used
Items Used