Silver Memories is the 393rd chapter of Hiro Mashima's Fairy Tail.
Silver, defeated, asks Gray to finish him off, much to his son's dismay. The Ice-Make Mage questions Silver's actions and the man explains that he's just a corpse revived by Keyes. Apologizing, Silver insists that Gray kills him and even though Gray initially intends to do so, crying, Gray exclaims that he's unable to do so. Silver then reaches to Juvia via Telepathy, asking her to defeat Keyes in order to stop Face.
Summary
Lying on the ground, Silver requests Gray for a final blow. Knowing that Silver is his father, Gray refuses and asks about Silver's intentions. The Ice Devil Slayer exclaims that he was waiting for Gray to kill him and even though he was once his father, he is no longer a human or a Demon, but a corpse, having been dead for 17 years, which shocks Gray. At the same time, a surprised Juvia learns of the same information, being told by Keyes.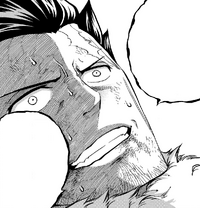 Silver continues to explain that even though he was a part of a necromancer's experiment, he continued to exist for the sake of a revenge against the Demons. He briefly describes his plan to destroy Tartaros, but it wasn't until he realized that Gray was alive that he decided to erase his own existence. Gray continues to protest and Silver apologizes for all the things he has said to Gray, with the latter realizing that it was so he could conquer his inner demons. Gray then insists that Silver is still his father and, with tears in his eyes, Silver states that a dad wouldn't hit his son.
Seeing that all Silver wants is to be put to rest, Gray creates a blade of ice and heads towards Silver. He exclaims that this is how Fairy Tail protects themselves against their enemies and Silver bitterly smiles. However, Gray drops his blade and, crying, yells out that in spite of everything, he cannot do it. Silver stands up and hugs his son, telling him that he's grown into a fine man. Meanwhile, Juvia continues to fight against Keyes, when suddenly, she hears a voice and realizes that it's Telepathy. After being flustered due to Silver calling her a Gray's woman, Juvia learns of Keyes being the one who controls the former chairman and Face, being told to defeat him. However, knowing that Keyes' defeat will also mean Silver's end, Juvia stands with a shocked expression.
Characters in Order of Appearance
Battles & Events
Magic, Curses, Spells, and Abilities used
Magic used
Curses used
Spells used
Abilities used
Items used