Fairy Strategist is the 305th chapter of Hiro Mashima's Fairy Tail.
As the final game continues, Fairy Tail quickly learns why their first master was nicknamed "The Fairy Tactician". Meanwhile, Natsu and co. are able to free Lucy, but their escape soon seems impossible when Hisui captures them. In the final game, Gray finally gets a chance to redeem himself, as he prepares to square off against Rufus.
Summary

As Team Fairy Tail finally starts to make their move, Mavis starts spouting out her strategy to the other Fairy Tail members. Rufus uses Memory-Make: A Night of Falling Stars, but all of Team Fairy Tail are able to dodge or guard the attack, due to Mavis' thinking. Mavis continues saying her strategy, as Erza runs into Jenny in the exact spot Mavis had predicted. Erza quickly defeats her with a single slash. Gajeel also earns Team Fairy Tail two points after following Mavis' prediction, as he defeats Eve and Ren. Gray finishes off another Team Blue Pegasus member by defeating Hibiki. With this, Fairy Tail jumps into a tie with Team Sabertooth. Mavis continues saying her complex strategy, which reminds Makarov of The First's nickname, The Fairy Tactician. Ichiya is the last of his team to remain, but he is easily beaten by Jura. At the same time Sherria defeats Risley. With this, Team Blue Pegasus are out, and Lamia Scale makes it a three-way tie. Mavis is asked by Kinana and Laki what she planned to do about Jura. Mavis tells them she was unable to think of a plan, as he is that powerful.
Meanwhile, within Mercurius, Natsu and co. break Lucy and Yukino out of jail. Lucy is given new clothes as she plots how to get her keys back. Before they can act though, the floor beneath them opens as everyone falls into an underground trap. An image of Hisui E. Fiore appears, as she tells the Fairy Tail members they are in "a capital of death" that no criminal has ever escaped. She tells them all to rot there for sneaking into the palace. The guards next to her cheer her on, but Hisui still looks down saddened.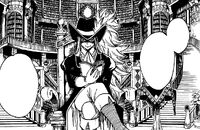 Back at the competition, Gray walks into the building Mavis predicted Rufus would be. Rufus sits in a chair, and claims he has forgotten about Gray, and asks if he can help him remember. Gray says not to bother, as he'll finish him right now.
Characters in Order of Appearance
Battles & Events
Magic, Spells, and Abilities used
Magic used
Spells used
Abilities used
Weapons used
Items used
Community content is available under
CC-BY-SA
unless otherwise noted.