Drunk Falcon is the 275th chapter of Hiro Mashima's Fairy Tail.
Despite their humiliating defeat, Fairy Tail doesn't give up and promises to win the next events. A new opponent then appears in their midst, Bacchus, the S-Class Mage of Quatro Cerberus and one of Erza's rivals. Elsewhere, Carla reveals her visions to Porlyusica: a white knight, a Magic array, and Mercurius destroyed with Lucy singing in the ruined city.
Summary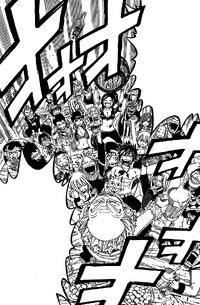 After their humiliating defeat, the members of Fairy Tail regroup, but are still hopeful that they will be able to make a comeback and start partying. During the party, numerous members become aware that Lucy and Gray are not present. Concerned, Juvia forms a scenario in her head with Lucy seducing Gray. However, this proves to be false as the two appear behind her. With the two present and Wendy and Carla unable to go due to their injuries, Makarov faces his guild members and encourages them, telling them that they are the guild that doesn't know the meaning of giving up. The party then commences, causing the bystanders outside to comment that they're noisy even though they lost.
Elsewhere, in the castle of Mercurius, Arcadios is having a talk with the King, asking him if he has any request concerning the second day fights. The King tells him that he wants to see Sting and Rogue fight, but thinks that they should leave the best for last. He then tells Arcadios to have Bacchus battle someone from Fairy Tail. The King then dismisses Arcadios who quietly leaves, saying to himself that soon something will be complete.
| | |
| --- | --- |
| | |
Meanwhile, Natsu and Gajeel are trying to pick a fight with their guild mates while Laxus discourages them. At the same time, Cana is approached by a man who challenges her to a drinking contest, despite Macao and Wakaba's warnings. However, the man proves himself to be capable of defeating Cana in the contest, making it her first loss. The man then turns to leave, taking Cana's bra as a prize. Macao and Wakaba try to stop him from disgracing their guild mate, but the man easily and effortlessly dodges their attack and smacks them in the heads. Erza then arrives and realizes that the guy is Bacchus, the Quatro Cerberus S-Class Mage. Bacchus then leaves after telling them that he will be replacing Warcry as one of his guild's representatives. As Bacchus leaves, Erza tells her team mates that they had fought multiple times in the past and no one has yet won, surprising them.
Meanwhile, Carla is explaining her vision to Porlyusica. According to her, she saw fragments, which includes a white knight, a Magic array, and Mercurius being destroyed, with Lucy singing something inside the city.
Characters in Order of Appearance
Battles & Events
Magic, Spells, & Abilities used
Magic used
Spells used
Abilities used