Bad Omen is the 274th chapter of Hiro Mashima's Fairy Tail.
The battle between Team Fairy Tail B's Mystogan and Lamia Scale's Jura Neekis concludes the first day of the Grand Magic Games, with Jura winning due to Ultear and Meredy's intervention. Meanwhile, Carla has a disturbing premonition.
Summary
Jellal and Jura Neekis are selected to represent their teams in the final battle round of the Grand Magic Games' first day. The crowd cheers wildly for Jura, showing his high level of popularity. Makarov notices that Mavis seems tense, but tells her that Jellal was one of the Ten Wizard Saints just like Jura and so their skills should be evenly matched. However, Mavis points out that she needs to use the restroom, surprising everyone since she's a spirit.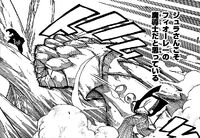 The battle begins with Jura using his Earth Magic, but Jellal is able to dodge it and set up Five Layered Magic Circle: Sacred Song around Jura. Jura comes out unharmed and sends an attack at Jellal. He reflects it, though Jura does the same, hitting his opponent. Jellal starts using his true Magic, utilizing the spell Meteor, of which Jura takes notice With this speed, Jellal hits Jura, and sets up Grand Chariot as well. Jura defends with Rock Mountain. Jura finally catches on and understands that he is actually fighting Jellal in disguise, though he keeps it to himself. Being pushed this far, Jellal disregards his disguise, and begins to cast Sema, which will immediately expose him.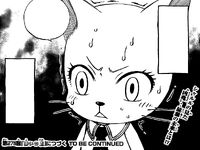 Ultear and Meredy, watching from afar, stop him by using Meredy's Sensory Link. Ultear force-feeds Meredy hot peppers and tickles her, which Jellal feels on the arena, making him fall down. Jura gets the victory, and Fairy Tail loses. The crowd boos Fairy Tail again, and Jura is confused about his victory, though his Guild Master is still happy. Mostly all of Fairy Tail is discouraged, especially Mavis.
Meanwhile, Carla wakes up after having being knocked out, and has a terrible premonition.
Characters in Order of Appearance
Battles & Events
Magic, Spells & Abilities used
Magic used
Spells used
Abilities used
Weapons used
Items used
Community content is available under
CC-BY-SA
unless otherwise noted.