Let's Join Hands is the 253rd chapter of Hiro Mashima's Fairy Tail.
Makarov succumbs to his wounds and is unable to defeat Acnologia, but, to his surprise, everyone returns to help fend off the Black Dragon. Their efforts, however, are in vain, as Acnologia ascends into the sky. Sensing the oncoming threat, all the members of Fairy Tail join hands. In their final moments, everyone pours all their Magic Power into forming a giant barrier to protect themselves. Acnologia then uses his Dragon's Roar, completely obliterating Tenrou Island.
Seven years later, Acnologia has long since vanished. No one from the Team Tenrou has been found. Elsewhere, a young man stares off into the sea.
Summary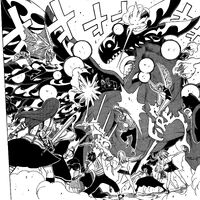 In order to give his guild members time to escape the island, Makarov is holding off the Black Dragon with his Giant. He affirms his declaration that he will not allow the Dragon to get past him as he must protect the members of his guild. However, the Dragon knocks him to the ground and steps on his wound, causing it to reopen.
| | |
| --- | --- |
| | |
Makarov smiles as he realizes that he no longer has any regrets and is a true parent now. Suddenly, Natsu shows up and tries to fight the Dragon, to no success as it tosses him aside. The other members of the guild arrive and begin fighting the Dragon as well while Laxus helps his grandfather, reasoning that there was no way they could've left him behind. As the guild continues to fight the Dragon, a mysterious girl watches them and clasps her hands in prayer. Even with the combined powers of the members of the guild, the Dragon easily repels their attacks and Gildarts realizes that the Dragon is not showing its true strength but is merely playing with them. The Dragon then quickly takes to the skies and prepares to attack.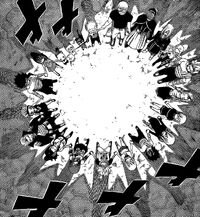 Gajeel realizes that the Dragon is about to use its Roar and Erza tells everyone who can use defensive Magic to do so. Lisanna tells everyone to channel their energy towards Freed and Mirajane tells them to join hands. Determined to return to their home, everyone joins hands just as the Dragon unleashes its attack, decimating the island and seemingly vaporizing everyone as Zeref, Ultear, Meredy and the Magic Council Army watch from afar. When the attack dissipates, Zeref, riding Grimoire Heart's airship, realizes that the war is over and cries for Natsu. Acnologia then flies away, disappearing from sight. As of December 16, X784, Tenrou Island is no more.
Afterwards, the Magic Council had tried searching the surrounding waters for survivors for half a year, with no success. Seven years passed, Romeo, now branded with the mark of Fairy Tail, stares off into the sea, alone.
Characters in Order of Appearance
Battles & Events
Magic, Spells, and Abilities used
Magic used
Spells used
Abilities used
Weapons used
Items used
Community content is available under
CC-BY-SA
unless otherwise noted.