Just Look How Close is the 247th chapter of Hiro Mashima's Fairy Tail.
The battle between the Fairies and Demons rages on. As Panther Lily fights off members of Grimoire Heart, Happy and Carla try to destroy the mysterious machine. Meanwhile, facing Hades' true power, Natsu, undeterred, encourages his friends to stand up and fight. As they charge at the former Master, the airship suddenly explodes.
Summary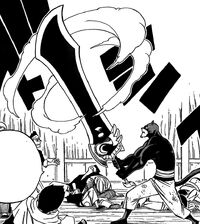 Happy, Carla and Panther Lily are conversing about a recent discovery they've made. Happy theorizes that they have found a power source but Carla disagrees while Panther Lily relates the discovery to the name of the guild. Just then, Mages from the Dark Guild discover the three Exceed, prompting Panther Lily to hold them off while Happy and Carla find a way to stop the airship. Turning into his original form, Panther Lily makes quick work of the Dark Guild Mages and finds a weapon similar to his old Bustermarm, while Happy and Carla contemplate on how to destroy the airship.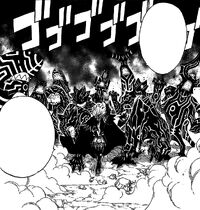 Meanwhile, the Fairy Tail Mages are awed by Hades's powerful Magic and Natsu is still unable to move. Hades states that the world will change when Zeref awakens, and that he will obtain The One Magic. Lucy recalls having heard of such Magic before from her mother, and Hades declares that they cannot step into the abyssal deep because they lack the resolve. He activates Nemesis, which summons Demons from the rubble around hiim. The team begins shaking in fear at this power until Natsu, regaining his composure, recites the words Gildarts taught him during the trial.
Motivated by Natsu's declaration that they are all together, the team charges forward as Hades sends his Demons ahead. Natsu begins to fall behind, but Lucy and Wendy push him forward; Gray and Erza assist by pushing him even further on with their legs. As Hades says that it is time for the sun to set, the airship suddenly explodes.
Characters in Order of Appearance
Battles & Events
Magic, Spells, and Abilities used
Magic used
Spells used
Abilities used
Weapons used