The Man Without the Mark is the 245th chapter of Hiro Mashima's Fairy Tail.
The battle between the two former Fairy Tail members reaches its climax. Although Laxus initially has the upper hand, Hades proves to be too much to handle, even for the Lightning Dragon Slayer. Facing sure defeat, Laxus makes a choice that no one could have foreseen!
Summary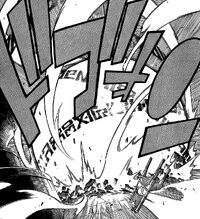 The Fairy Tail Mages are surprised and pleased to see Laxus while Hades is surprised to learn that Laxus is related to Makarov. After commenting on Natsu and the others' battered clothes, Laxus reveals that he visited the island in order to visit the graves of his ancestors. With that, he begins the battle by kicking Hades, followed by a lightning charged punch that sends Hades flying. Laxus then charges at Hades and attacks him with a punch and a Lightning Dragon's Roar that misses. Hades counters with his Chain Magic which misses and hits the giant globe. Hades tries to flatten Laxus with it but misses. Throwing away the globe, Hades attacks Laxus with an invisible, long range attack followed by a bomb formula that causes a huge explosion. Laxus retaliates by using his Lightning Magic to propel his next attack. The Fairy Tail Mages watch Laxus in awe, surprised to see his strength. Suddenly, Laxus' body weakens due to the spell that hit him previously.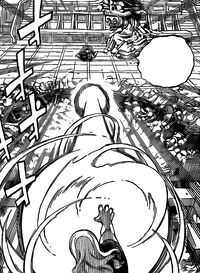 Realizing Hades' strength, Laxus smirks, saying that he still has a long way to go. The Fairy Tail Mages begin to panic after hearing Laxus and watch as Hades uses his Explosion Bullet. Just as the attack is about to collide, Laxus, realizing that he can still get angry if something happens to Makarov even though he is no longer part of the guild, transfers his power to Natsu, much to everyone's surprise. The attack collides and Laxus manages to survive just as Natsu stands up and asks Laxus why he gave him his power, pointing out that he is weaker than him. Laxus tells him that it is not about who is stronger or weaker, it is about who got hurt and a member of Fairy Tail should take the pain that was caused by Hades and return in a hundredfold. With Laxus' lightning giving him power, Natsu, in Lightning Fire Dragon Mode, readies himself to fight with Hades once more.
Characters in Order of Appearance
Battles & Events
Magic, Spells, and Abilities used
Magic used
Spells used
Abilities used