Acnologia is the 242nd chapter of Hiro Mashima's Fairy Tail.
As Natsu and the others prepare to confront Hades, Meredy and Juvia are intercepted by Zancrow, who seeks to kill Meredy for treason. As Zancrow damages Meredy with information regarding Ultear, Zeref awakens and kills Zancrow. Meanwhile, Erza and Gray meet Natsu and the others at Grimoire Heart's Airship.
Summary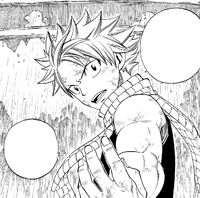 While the rain continues to fall, Lucy and Levy comment about it while Panther Lily begins to tremble, causing his fellow Exceeds to conclude that he is afraid of lightning. Natsu then stands up and tells Lucy and Happy that they will go and defeat Hades, she points out that Freed would be better than her. Freed, however, replies that he has to cast Jutsu Shiki around the area, and Bickslow agrees, telling the others to leave the defenses to them. Wendy requests that she go as well, before Carla can really protest. Panther Lily also agrees to go with them despite the trembling while Levy and Lisanna decide to stay at the camp to help with the Jutsu Shiki and protect the unconscious Fairy Tail members. Before everyone leaves, Lisanna requests Lucy to stay close to Natsu as he gets stronger if his comrades are around him, to which Lucy agrees.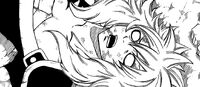 Meanwhile, Juvia is still chasing Meredy who is carrying Zeref. Zancrow then shows up, and asks Meredy where she is planning to take Zeref. Before Meredy could respond, however, Zancrow accuses her of planning to betray Grimoire Heart along with Ultear. He then attacks Meredy, telling her that she's no longer a part of the guild. As Zancrow grabs Zeref, Meredy tells him that he is her and Ultear's future, but Zancrow reveals the truth of who was the one that destroyed her hometown. As Meredy watches in disbelief, Zeref suddenly wakes up, and says the word "Acnologia." Suddenly, a dark wave appears out of Zeref and Zancrow collapses on his feet, dead while Meredy and Juvia lose consciousness. As Zeref walks away, he fears that if an era is about to end, he may awaken once again. He hopes that he would be destroyed before that happens. Hiding behind him is Doranbolt who is shocked to hear the word "Acnologia."
Elsewhere, an injured Gray is about to fall unconscious when Erza shows up and catches him. The two then meet up with Natsu's group and the group arrive towards Hades who, in disbelief that all of his force has been defeated, wishes to give his praise to Makarov's soldiers. Standing on the top of his ship, he says that it comes down to engaging against his opponent, and that the play between the Demons and the Fairies has come to its finale. Staring down at his opponents, Hades challenges them, the third generation of Fairy Tail.
Characters in Order of Appearance
Battles & Events
Magic, Spells, and Abilities used
Magic used
Spells used
Abilities used