Gray vs. Ultear is the 240th chapter of Hiro Mashima's Fairy Tail.
As the battle between the apprentice, Gray, and the master's daughter, Ultear, begins, Ultear orders Meredy to take Zeref away while Gray tells Juvia to chase after her. The two then proceed to attack each other with Gray realizing that his ice is not effective because of Ultear's Arc of Time. Despite this, Gray's spirits aren't dampened as he uses his blood to take control of the battle. However, Ultear counters with the Magic she learned from her mother, Ice-Make.
Summary
Gray begins his battle against Ultear by knocking her down. Ultear then quickly orders Meredy to take Zeref body away as she fights Gray. Gray tells Juvia to go after Meredy and never let them have Zeref. Juvia, having heard Gray's voice, awakens and chases Meredy despite the pain in her leg.
As Gray tries to use Ice-Make against Ultear, she uses her Arc of Time to cause it to evaporate. Gray then realizes his Magic is useless and Ultear explains that she learned Arc of Time Magic to kill her mother Ur, revealing that she always hated her. Gray berates her, stating that Ur always thought about her and always loved her. He states that he believes in Ur's Magic and will use it to defeat Ultear, who once against states that it is pointless to try.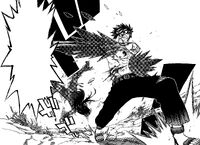 Suddenly, Gray manages to turn his right arm into an ice blade and states that he will seal her darkness. Ultear once again states that his Magic won't work but finds herself unable to evaporate his ice and is slashed by Gray's Ice Blade: Seven Slice Dance. Gray reveals that he froze his own blood to create the blade since Ultear's Magic won't work on living beings. Despite admiring his tenacity, Ultear states that she will not lose and takes a stance similar to Ur's and hits Gray with Ice-Make: Rosen Krone, surprising Gray as he states that it is exactly the same as Ur's Magic.
Characters in Order of Appearance
Battles & Events
Magic, Spells, and Abilities used
Magic used
Spells used
Abilities used
Weapons used