At One Time is the 238th chapter of Hiro Mashima's Fairy Tail.
With Azuma defeated, the Magic Power of the Fairy Tail members returns, enabling them to defeat Grimoire Heart's Bluenote and Rustyrose. Meanwhile, Ultear asks Gray to use Iced Shell against Hades.
Summary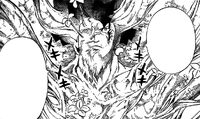 Having taken the strike from Erza, Azuma lays defeated. Erza falls from the fallen tree, and as she gets up, she notices that Azuma is growing plants from his body. Azuma states that it is a side effect from overusing his Magic. As he slowly turns into a tree, he promises to return all of the Magic to the Fairy Tail members. Before he is completely turned into a tree, Erza asks if Azuma knows Jellal. While Azuma replies with a yes, he is more concerned with Ultear, whom Hades trusts more than any other person. Azuma then reveals why they were obsessed with Zeref; they want to get closer to the original source of all Magic. Before he can answer Erza's final question of what will happen if they get it, his speech is cut short as he is turned into a tree.
Back at each battlefield, everyone notices that their Magic has returned. Taking this opportunity, Fried and Bickslow fight back against Rustyrose, who is surprised by yet another sudden reversal. Bluenote, who is disappointed by a Magic-deprived Gildarts, suddenly has his foot blocked by him. With a flick, he sends Bluenote flying for a bit. Excited once more, Bluenote strikes with his most powerful attack, and intends to crush Gildarts.
Meanwhile, Rustyrose re-summons Tower of Dingir, and traps the majority of the members at the camp. Noticing that Bickslow is removing his mask, Rustyrose mocks him about the weakness of the Magic, but Bickslow says that he wasn't aiming for him, but for Elfman. Using Elfman's body to attack Rustyrose, the Tower of Dingir is dispelled. With a push from Lisanna, Fried charged towards Rustyrose. While Gildarts shatters Bluenote's attack and punches him, sending him flying into the sky, the two members of Grimoire Heart are thus simultaneously defeated.
Elsewhere, Gray and Ultear notice that the Magic has returned to how it was before, and Gray is still surprised by Ur's will. Ultear then tells Gray that she will take Zeref and leave the island, and asks him to defeat Hades by using the spell, Iced Shell.
Characters in Order of Appearance
Battles & Events
Magic, Spells, and Abilities used
Magic used
Spells used
Abilities used
Items used