Erza vs. Azuma is the 236th chapter of Hiro Mashima's Fairy Tail.
With the lives of her friends on the line, Erza battles Azuma. However, Titania finds herself fighting a powerful opponent and is seemingly defeated. Thousand of miles away, an imprisoned Jellal senses her defeat and utters her name.
Summary
All throughout the island, the Fairy Tail Mages collapse as the Tenrou Tree completely falls, causing those who bear the guild's insignia to lose their Magic.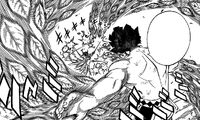 Meanwhile, Erza questions Azuma about why he did not take away her Magic Power as well and Azuma states he only wants to fight her while she is in rage. Erza then requips into her Heaven's Wheel Armor and attacks Azuma with Blumenblatt, but he deflects it with roots from the Tenrou tree. Azuma then attacks back with Folium Sica and a fist out of the tree, causing Erza requip back into her Hearts Kruz Armor. Erza then requips into her Flight Armor and manages to strike Azuma. When Erza is about to attack again the tree roots block her attack and a hand form grabs Erza. Azuma then uses Tower Burst. Erza endures the attack and wonders what armor she should use next.
Erza realizes she needs to use all her power in one attack and requips into her training clothes with only one sword. She then puts all her offensive power into her final attack, Demon Blade Benizakura. As Erza is about to strike Azuma, however, the roots grab and wrap themselves around her. Azuma then unleashes his ultimate attack, Terra Clamare. Erza falls and is on the brink of unconsciousness and Azuma claims his victory.
At the same time, Jellal, in his prison cell, senses her defeat and utters her name.
Characters in Order of Appearance
Battles & Events
Magic, Spells, and Abilities used
Magic used
Spells used
Abilities used
Armors used
Weapons used
Items used
Community content is available under
CC-BY-SA
unless otherwise noted.