The Tenrou Tree is the 235th chapter of Hiro Mashima's Fairy Tail.
All throughout Tenrou Island, the battles between Fairies and Demons heat up. Azuma uses his Magic to destroy Tenrou Tree, weakening the people who bear the insignia of the Fairy Tail Guild except Erza as he challenges her to a fight. Learning that the lives of her comrades are on the line, an enraged Erza prepares to battle the Grimoire Heart Mage.
Summary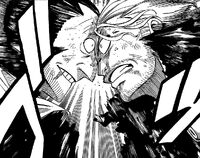 Rustyrose regains his composure and attacks Bickslow and Freed with the Ghosts of Brittia. Meanwhile, Gildarts continues to fight Bluenote and the two Mages are evenly matched.
On the other side of the island, Erza is fighting Azuma. During their battle, Azuma reveals his Lost Magic: Great Tree Arc and that his ability to create explosions is part of his ability to create tress. He also says that he came to the island for only one reason: to take control over Tenrou Island and everyone in it. The tree on the island is then seen breaking in two. Erza becomes angry and asks what he did.
All throughout the island, Doranbolt, the Rune Knights, and everyone else on the island notices the tree breaking in two and every Fairy Tail member then collapse and lie immobilized on the ground due to the draining of their Magic. Seeing what is happening to Gray, Ultear realizes it to be Azuma's doing. Hades, meanwhile, watches safely from his airship, commenting that any chance Fairy Tail had of victory had disappeared. He then expresses his surprise that there was another person who could stop Bluenote: Gildarts.
Meanwhile, Azuma explains that Hades knew the true nature of Tenrou Island and that the great Tenrou Tree bestows divine protection to those bearing the crest of Fairy Tail. With Azuma having taken the tree down, that protection is now lost and Fairy Tail will be eradicated. He then tells Erza that she is the only one left who can save Fairy Tail and asks her to show him her true power.
Characters in Order of Appearance
Battles & Events
Magic, Spells, and Abilities used
Magic used
Spells used
Abilities used
Armors used
Weapons used