The Boy Who Watches the Sea is the 234th chapter of Hiro Mashima's Fairy Tail.
Having seen the flare that signals an enemy attack, Gildarts, Freed and Bickslow return to the island and quickly engage in combat with Bluenote and Rustyrose. Somewhere else on the island, Erza fights Azuma while Gray talks to Ultear. With all the events happening, the war between the Fairies and Demons is nearing its conclusion.
Summary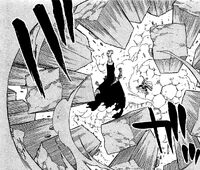 Gildarts and Bluenote begin to fight and both Mages are evenly matched. Gildarts then tells Natsu and the others to leave so that they would not be caught up in the fight. Natsu complains, wanting to see them fight but the others manage to bring him with them as they carry an unconscious Makarov with them. Meanwhile, Bickslow and Freed, having returned to the island with Gildarts after seeing Erza's flare, engage in combat with Rustyrose. Bickslow uses his Baryon Formation but Rustyrose is able to deflect it with his Golden Shield and dodges it with Pegasus Wings as Freed attacks him with his Magic. Rustyrose then summons Belfast the Hurricane, which Bickslow easily destroys using his Seith Magic.
| | |
| --- | --- |
| | |
Freed then proceeds to use his Dark Écriture: Absolute Shadow and attacks Rustyrose, who begins to feel fear. All throughout the island, the battles between Fairy Tail and Grimoire Heart continue with Gildarts fighting Bluenote, Freed and Bickslow fighting Rustyrose and Erza fighting Azuma. Elsewhere, Gray continues his talk with Ultear. Elsewhere, a boy bearing the insignia of Fairy Tail calmly gazes at the sea.
Characters in Order of Appearance
Battles & Events
Magic, Spells, and Abilities used
Magic used
Spells used
Abilities used
Weapons used
Armors used
Community content is available under
CC-BY-SA
unless otherwise noted.