Tears of Love and Vitality is the 230th chapter of Hiro Mashima's Fairy Tail.
With Gray's life on the line, Juvia refuses to let Meredy commit suicide and later manages to convince her to live for the ones that she loves. The two then collapses and the battle comes to a close. Meanwhile, Gray is discovered by Ultear who tells him that she is his ally.
Summary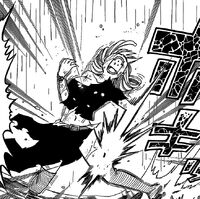 In desperation, Meredy manages to link her, Juvia's, and Gray's senses together. However, she also reveals that if either one of them dies, all of them will die. Feeling pain, Gray wonders why there are feelings pouring into him, and if it has anything to do with the mark. Knowing that their feelings are linked, Meredy prepares to commit suicide, but is stopped by Juvia with a blow to her own leg. Meredy then explains more about the Magic, but Juvia tries to convince her that all three of them should live. Hearing her words, Meredy remembers her past. The town she was in was in ruins. Ultear, Kain, and Zancrow met up with the young girl, and Ultear tried to calm her down. Despite Zancrow's protest, Ultear let her live and took her into Grimoire Heart.
Years later, Ultear and Meredy were talking a bit, and Meredy had proclaimed that Ultear is her mother. Meredy is then hugged by Juvia, causing her to focus on the present. Juvia demands that they must live. Meredy then realizes that not only their senses are being shared, the emotion is also being shared among them. The two of them then eventually loses their will to fight, and collapses on the water. Meanwhile, Gray notices that the mark has disappeared. However, Ultear sneaks up from behind him, and asks if he was following her. Ultear then introduces herself as Ur's daughter, and tells him that she is an ally.
Characters in Order of Appearance
Battles & Events
Magic, Spells, and Abilities used
Magic used
Spells used
Abilities used