Lucy Fire is the 227th chapter of Hiro Mashima's Fairy Tail.
Natsu, Lucy and Happy begin facing off against Ultear and Kain. Kain acquires Lucy's hair, turning the tide of the battle with his Magic. Natsu then obtains Mr. Cursey and ignites the doll with his Fire Dragon Slayer Magic. Using Max Speed, Happy controls Lucy's body and attacks Kain with Secret Attack: Lucy Fire, defeating the Seven Kin.
Summary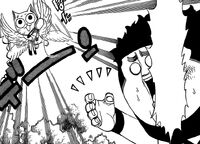 Natsu, Lucy and Happy begin to face off against Ultear and Kain. Kain, however, tells Ultear that he can take care of it while she gets Zeref back to the ship. Ultear obliges and heads off while Lucy exclaims they can't let them take Zeref. Natsu charges in, but Kain engages him. Lucy goes to help, but suddenly finds herself unable to move. Kain then shows that he managed to grab a strand of her hair and put it on the voodoo doll, and thus is now in control of her body. He then forces Lucy to fight Natsu and the Dragon Slayer realizes that while being used by the doll, Lucy's strength increases. Natsu manages to subdue Lucy while Happy grabs the doll away from Kain. Kain knocks him away, but Natsu manages to get the doll, only to get smacked into some rocks and trapped under a boulder.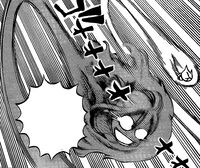 With Lucy's Magic completely drained, she is left helpless as Kain beats her. Natsu urges Lucy to run, but she refuses, stating she wants to be together with everyone. Just as Kain is about to kill her, Natsu uses the doll to manipulate her body and throttle Kain. He then combines his Fire Dragon Slayer Magic with the doll to give Lucy his power. Natsu then throws the doll to Happy who uses his speed in conjunction with Natsu's Magic to have Lucy perform a flaming drop kick dubbed Secret Attack: Lucy Fire into Kain, knocking out and defeating the Seven Kin of Purgatory member.
Characters in Order of Appearance
Battles & Events
Magic, Spells, and Abilities used
Magic used
Spells used
Abilities used
Items used
Community content is available under
CC-BY-SA
unless otherwise noted.