A Curse of Vengeance is the 226th chapter of Hiro Mashima's Fairy Tail.
Lucy wakes up just in time to dodge Kain's crushing blow. Left with no options, Lucy fights back, with Kain quickly gaining the upper hand. During the course of their battle, the two arrive at Natsu and Ultear's location, with Natsu saving Lucy from a potentially fatal hit. Natsu, Lucy and Happy then decide to reform their team and fight Kain together!
Summary
Seeing the unconscious Lucy, Kain prepares to stomp her to her demise. Lucy, however, wakes up in the nick of time to dodge the attack. She then stands up and has no idea what happened, including Cana's whereabouts. She desperately asks Kain about her, but he replies that he doesn't know or if it matters as he will kill her on the spot. As Kain prepares, Lucy stares at him and declares that she will defeat anyone that opposes Fairy Tail.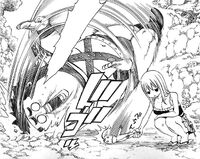 Before the battle starts, however, Kain pulls out a doll and asks Lucy to give him some of her hair as this is needed for his Magic to work. He then explains that if he puts hair on the doll, he can manipulate the target's movements. This makes Lucy not give him her hair, leaving Kain surprised. Kain then decides to demonstrate to the non-believing Lucy, and Lucy quickly uses it to attack Kain. After a bit of demonstration, Kain snatches the doll back and begins to charge Lucy.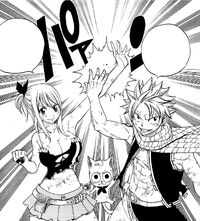 As she runs, Lucy summons Taurus to counterattack, only to be defeated upon being summoned. She then summons Sagittarius who shoots arrows at Kain, but he quickly kicks it back at them. Lucy then summons Scorpio next to attack, but again, he is defeated. Kain then explains that by changing the doll's property, it can also change the one possessed to that element. Just as Lucy is about to be crushed by Kain, Natsu shows up and kicks Kain towards the tree that Ultear made. The respective teammates ask why were they doing in that area. Natsu then says that they will set aside the exam for now and form a team with Lucy.
Characters in Order of Appearance
Battles & Events
Magic, Spells, and Abilities used
Magic used
Spells used
Abilities used
Weapons used
Items used
Community content is available under
CC-BY-SA
unless otherwise noted.