The Ambition of Zoldeo is the 224th chapter of Hiro Mashima's Fairy Tail.
The battle between Celestial Spirits draws to a close. It is revealed that Capricorn is possessed by Zoldeo, a person who was entrusted by Layla Heartfilia to pass on his key to Lucy. With Zoldeo dead, Capricorn is now free. He then returns to the Celestial Spirit World with Loke, deciding to take his rightful place as one of Lucy's spirits.
Summary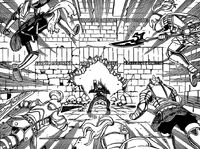 Caprico, who now knows that Lucy is Layla's daughter, summons another human to eliminate Lucy. Loke, however, easily defeats the summon, causing Caprico to send a wave of five knights towards the opening of the wall. However, Loke quickly goes towards the opening, and defeats the wave of summons with Regulus.
Loke now questions what had happened to Caprico, as his new master should have been Lucy because of Layla. Caprico then explains that he broke a taboo, and is now cursed with this body, leaving Loke confused. With Caprico starting to cast a spell on himself that will fuse with the target, Loke realizes that Caprico has a human fused within himself. Trying to stop the fusion, Loke punches Caprico with Regulus, but is too late in the end.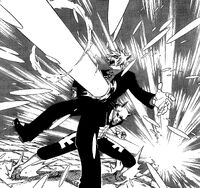 Now fused with Loke's body, the possessor now prepares to finish Lucy off in order to become human once again. However, Caprico suddenly strikes back with Regulus, and the possessor, who Caprico calls Zoldeo, is surprised and forced out of Loke's body. Landing on his face, Zoldeo questions how Caprico was able to move, which the latter replies that Loke transferred Regulus to him at the last second in order to defeat Zoldeo. Zoldeo fades away shortly after as he is now a spirit without a body. Afterwards, Caprico explains everything about his past with Layla and Zoldeo, and decides to fulfill his promise with Layla by becoming Lucy's Celestial Spirit.
Lucy, who notices her keys were glowing, reveals that Loke had won to Gray and Cana. Loke returns to the Spirit World to rest, leaving Gray without a partner.
Characters in Order of Appearance
Battles & Events
Magic, Spells, and Abilities used
Magic used
Spells used
Abilities used