The Human Gate is the 223rd chapter of Hiro Mashima's Fairy Tail.
Doranbolt returns to the Rune Knights' boat and learns that the Council may fire Etherion on the island. Meanwhile, Loke tells the others about Caprico's Magic, Human Subordination Magic and of him being a Celestial Spirit as well. He then manages to get the others to leave as the battle between Celestial Spirits begin.
Summary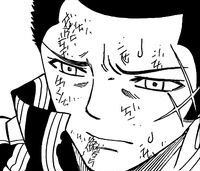 At the destroyed battleship of the Magic Council, Lahar commands his subordinates to aid the wounded and prepare to attack the Island. Just then, a wounded Doranbolt shows up and reveals to Lahar everything that had happened on the island after verifying that the Communication Lacrima is operational. Hearing that Fairy Tail, Grimoire Heart and Zeref are all on the island, Lahar can't believe his ears and fears that the Chairman, Gran Doma, may fire Etherion to rid the world of evil. Doranbolt opposes the idea, but Lahar tells him it isn't up to them to decide and tells him to contact headquarters.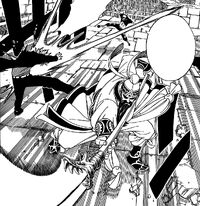 Meanwhile, Caprico, who stands triumphantly on the top of a ruin, is bombarded with comments about his guild's plan. While Caprico sympathizes for a moment, he still wishes to continue with the plan. Just as Gray is about to attack, Loke tells him and the others to leave and find the other members, while he will take care of the goat. Gray questions his motive, and Loke reveals that Caprico's Magic can weaken the Magic of human. He also revealed that his Magic won't work on spirits, and Caprico himself is one as well, Capricorn the goat. As they leave, Lucy tells Loke that he better come back. The two Celestial Spirits then clash, but neither seem to have the upper hand. During the battle, Loke learns that Capricorn had lasted over 17 years without a master supporting his Magic. Capricorn then asks him about Lucy, and the real reason why Loke wanted to fight him one-on-one. Caprico then realizes that Lucy is the child of Layla Heartfilia, and swears that she will not let her get away.
Characters in Order of Appearance
Battles & Events
Magic, Spells, and Abilities used
Magic used
Spells used
Abilities used
Weapons used