The Great Magic World is the 221st chapter of Hiro Mashima's Fairy Tail.
Wendy heals Natsu, while Zeref tells Ultear to leave with her Guild. Meanwhile, Elfman and Evergreen battle with Rustyrose. Soon, Grimoire Heart's objective is revealed and Ultear stands victorious over Zeref.
Summary
Still weak, Wendy tries to heal Natsu and Makarov. Wendy says she cannot heal Natsu for some reason. Makarov regains consciousness for a moment and tells Wendy to not worry about him and heal Natsu. Wendy pleas she will heal both of them. Makarov tells Wendy to heal Natsu's scarf first because its evil Magic is preventing him from healing. Happy explains how the scarf got turned black, which makes Panther Lily wonder if that guy they encountered was really Zeref.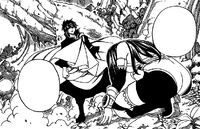 Somewhere else, Zeref asks Ultear if they seek his power. Ultear bows to him and responds they want his entire existence. Angered, Zeref says he doesn't plan to do anything in the current era as he doesn't want to see more death and orders Ultear to leave with her guild. Zeref's order causes Ultear to stare at him in shock. Elsewhere, Elfman and Evergreen are battling Rustyrose. They attempt to battle his Guardian Beast which he made using his Arc of Embodiment. Elfman tells Evergreen to use her stone eyes, but she claims it won't work because of the glasses he wears. Rustyrose smirks and calls the two lovers, which they heavily deny.
They keep battling, but Rustyrose slashes Evergreen. The two lay down on the ground and wonder what type of power this guy has. He responds it would be pointless explaining it to trash, but remarks that since it is so lose to the abyss of Magic it has strong side effects, but once Grimoire Heart captures Zeref that won't matter. Evergreen and Elfman recognize him from earlier when Rustyrose displays his picture. Rustyrose explains Grimoire Hearts plan to use Zeref's Magic to kill over everyone who is not a Mage. Caprico and Meredy also explains the plan to their enemies. Back where Ultear was, she stands victorious over Zeref and screams in joy of her success.
Characters in Order of Appearance
Battles & Events
Magic, Spells, and Abilities used
Magic used
Spells used
Abilities used