The Dragon God's Gleaming Flame is the 219th chapter of Hiro Mashima's Fairy Tail.
The battle between the Fire Dragon Slayer Natsu and the Flame God Slayer Zancrow heats up. Though Natsu initially seems to be fighting an uphill battle, Makarov is able to aid him in defeating the Grimoire Heart Mage, using his own Magic against him.
Summary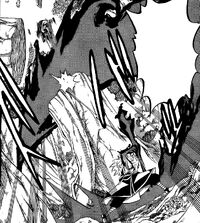 Hearing Natsu declare that he will defeat Hades, Zancrow goes towards him and threatens that he won't make him joke about that. Natsu then makes the first strike, but the opponent remained unfazed. The two continue fighting, and Zancrow scolds him that the difference between the flames of a god and that of a Dragon's. Natsu then punches a massive tree trunk towards Zancrow, but he punches through it and strikes Natsu with a grappling black flame. With the flame burning Natsu, Zancrow lets his guard down and is grabbed by Makarov who is unfazed by the Dark Mage's flames burning his arm. Makarov then tells Zancrow to never underestimate the power of family.

Hearing his master's words, Natsu tries to free himself from his flame prison while Zancrow wait for one of them to die. Natsu's Magic then disappears, surprising Makarov and causing Zancrow to laugh, thinking that Natsu had died. However, Natsu suddenly consumes the black flame, surprising Zancrow who escapes Makarov's grasp and prepares to attack. However, Natsu beats him by combining his Dragon's flame and Zancrow's God flames, forming Dragon God's Brilliant Flame and defeating the Dark Mage.
Characters in Order of Appearance
Battles & Events
Magic, Spells, and Abilities used
Magic used
Spells used
Abilities used