Fire Dragon vs. Fire God is the 218th chapter of Hiro Mashima's Fairy Tail.
Natsu and Zancrow battle, with Zancrow gaining the upper hand. After encountering a dying Makarov, Zancrow reappears. Natsu, trembling in fear, remembers what Gildarts told him about fear. He then stands up with new courage, and screams that he will defeat Hades.
Summary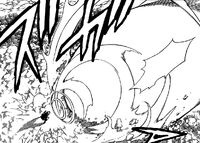 With a fierce barrage, Natsu attacks Zancrow. However, Zancrow merely blocks the attack with no effort. While Zancrow claims that he learned the style from Hades, Natsu laughs at the fact that Zancrow learned it from a human, while he learned his Magic from a Dragon. The two launch their fire attacks, but Zancrow quickly overpowers Natsu.
Zancrow then burns Happy, Carla and Panther Lily because he found them annoying. Angered, Natsu attacks with his Roar, but the flames are eaten by Zancrow, and he counterattacks with his Fire God's Bellow. Unable to eat or block the flames, Natsu gets blasted off a cliff, and Zancrow laughs loudly. Elsewhere, Lucy, Cana, Loke, and Gray are having a hard time against Caprico, who seems to be able to overpower all four of them.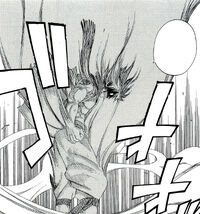 Natsu gets up and catches the scent of a dying Makarov. He rushes to him and tries to check his condition, but Makarov tells him that they have no chance of winning the battle. Though Natsu tells Makarov that he will win, Makarov pleads him to run, but Natsu refuses. In the midst of their argument, Zancrow catches up with Natsu, and mocks Makarov for losing to Hades. Natsu, now trembling, wonders if what he feels right now is fear, which Zancrow mockingly confirms. Natsu, however, realizes that this is a different fear from what Gildarts talked about. Flames begin to envelop Natsu, while he screams that he will defeat Hades and will not forgive any of them.

Characters in Order of Appearance
Battles & Events
Magic, Spells, and Abilities used
Magic used
Spells used
Abilities used