Lost Magic is the 217th chapter of Hiro Mashima's Fairy Tail.
As the battle between Fairy Tail and Grimoire Heart continues, the Grimoire Heart's top members, the Seven Kin of Purgatory, arrive at the island and confront the Fairy Tail Mages.
Summary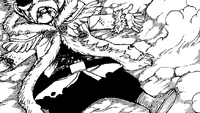 As Makarov lays defeated on the ground, the battle on Tenrou Island continues. Panther Lily complains that he cannot go to battle form because of his low Magic Power, but Carla points out hes not alone as Wendy cannot even heal anyone. Wendy notices Mest is gone, but Carla responds that they shouldn't even involve themselves with a guy like him. Meanwhile, Natsu defeats several Grimoire Heart members with ease with Fire Dragon's Wing Attack. Just then Zancrow appears and tells the other Grimoire Heart members to go look for Zeref as they don't stand a match against Natsu. One member points out that Natsu is incredibly strong which pisses Zancrow off as he says there's no stronger guild than Grimoire Heart.
He then burns all his guild members and states that the guild doesn't need weaklings like them. Everyone is shocked at Zancrow's black flames and his cruelty towards his guild members. Zancrow shoots flames at Natsu, but Natsu says flames don't work on him. To his surprise, Natsu actually cant eat them. Natsu is badly hurt with Zancrow's attack. Zancrow explains that his flames are flames of a god and are superior to Dragon flames and reveals that he is a Fire God Slayer. Somewhere else on the island, Caprico approaches Cana, Lucy, Loke, and Gray. Loke and Lucy quickly notice his goat-like face.
Elsewhere, Meredy appears to Juvia and Erza. Meredy announces she has run into enemies and that her prime mission has changed to exterminating them. Erza tells Juvia to be careful, as she can sense a strange Magic coming from Meredy. Evergreen and Elfman face Rustyrose, and Azuma runs into Mirajane and Lisanna. Azuma insults the guild for having mere woman and children defend. Kain Hikaru faces no Fairy Tail members and Ultear looks for Zeref. On the outskirts, Hades stands stating that Makarov's kids can't win against his Seven Kin of Purgatory and reveals that they are all users of Lost Magic.
Characters in Order of Appearance
Battles & Events
Fairy Tail vs. Grimoire Heart
Magic, Spells, and Abilities used
Magic used
Spells used
Abilities used
Weapons used
Items used