Makarov on the Attack is the 214th chapter of Hiro Mashima's Fairy Tail.
Makarov asks for protection from the grave of Mavis Vermillion. Meanwhile, the battle between Azuma, Panther Lily, Mest and Wendy begins and ends quickly. Elsewhere, the Grimoire Heart Airship is almost nearing Tenrou Island and Makarov is not going to wait for them to make the first move.
Summary
Makarov stands at Mavis Vermillion's grave and says it is his responsibility that enemies have arrived at their sacred island. Makarov states that he will accept any punishment and only asks Mavis to protect the other members. Somewhere else on the island, Natsu and Happy hear a huge sound and run towards it. Meanwhile, Wendy, Carla, Mest, and Panther Lily prepare to fight Azuma. They are still shocked at his power and how he easily destroyed the Magic Council's battleship. Panther Lily charges at him, but Azuma quickly uses Bleve.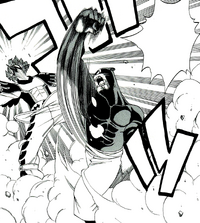 Panther Lily still comes through and punches Azuma square in the face. As he falls, Azuma uses more explosions and scatters everyone. Panther Lily still stands and Wendy quickly casts Arms X Vernier. With this, Lily charges at Azuma once again and manages to dodge his explosive attacks. As they fight, Wendy asks for Mest's help, and ignores the fact that they are supposed to be enemies. Lily flies into the sky, but Azuma states his explosions can still hit there. He points towards him, but Wendy comes from behind with Mest, using Direct Line.
Just when Wendy is about to use her Sky Dragon's Roar, Azuma defeats everyone with a single hit using Tower Burst. Natsu and Happy see the explosion and notice that nobody in the guild has that kind of power and decide to go towards it. As Mest lies on the ground, he thinks to himself how powerful the 7 Kin are and that Fairy Tail has no chance of winning.
Back on Grimoire Heart's ship, Ultear changes into her battle suit as everyone prepares for battle as well. Meredy calls Ultear "Ur," and tells her to look ahead and Ultear quickly responds with an angered face, telling her to never call her "Ur" again, referring to her mother whom she despised. Meredy apologizes, but as they all approach Tenrou Island, they are confronted by Makarov in Giant Form, ready to counter them. The other members are scared, but Hades simply smiles as they prepare to fight.
Characters in Order of Appearance
Battles & Events
Magic, Spells, and Abilities used
Magic used
Spells used
Abilities used
Community content is available under
CC-BY-SA
unless otherwise noted.