Predator of Death is the 208th chapter of Hiro Mashima's Fairy Tail.
The second exam begins. The task is to find the grave of the first Fairy Tail master within a six hour time limit. The participants are having a hard time because of all the dangerous creatures on the island. Natsu and Happy decided to go to the top of the island because it looks suspicious. At the camp, Erza is surprised to hear that Elfman and Evergreen are getting married. Mirajane says it was only a ploy to distract her. Meanwhile, Elfman and Evergreen are still being chased by a monster. They escape the beast but end up meeting the Killing Mage. The "predator of death" suddenly attacks but Natsu comes in time to save them.
Summary
The second part of the exam begins. The task is to find the grave of Mavis Vermillion within a six hours. Lucy and Cana have a rough start, being chased by the dangerous island wildlife. The others find the task isn't so easy too and find the wildlife deadly and hostile. Natsu beats one of the creatures chasing him and asks it where the grave is. Happy tells Natsu to stop because they can't talk, but to his surprise the creature can talk and replies that it doesn't know. Natsu and Happy start thinking about the shape of the island and decide the top part looked suspicious so they decide to search there.
| | |
| --- | --- |
| | |
On the island, the S-Class Mages and losers set up a camp. Erza is surprised to here Elfman and Evergreen are getting married. Mirajane explains she lost to them because they told her that. She imagines their supposed "baby" which she cries about. Lisanna asks where Freed and Bickslow are, and Erza replies they went back to guild with Gildarts. They then wonder where Mest and Wendy are and so Juvia decided to look for them, her true intention was to cheer Gray on, but Erza decide to go with her. Elsewhere, Elfman and Evergreen hurl down a hill after escaping a chase from one of the wild creatures and run into the Killing Mage.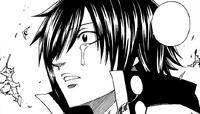 He is surprised to see people on the island, and realizes that they are from a guild. Elfman starts charging towards him, but he warns them to back away. He exclaims the "predator of death" is coming and urges them to leave, but it becomes too late and he releases a "death wave" that destroys anything it comes in contact with. Natsu arrives in time to push them down, avoiding the attack. Upon seeing Natsu, the Killing Mage says his name and sheds a tear, but Natsu demands to know who he is.
Characters in Order of Appearance
Battles & Events
Magic, Spells, and Abilities used
Magic used
Spells used
Abilities used