To Continue Down This Path is the 206th chapter of Hiro Mashima's Fairy Tail.
The battle between Fairy Tail's ace and problem child continues. However, Natsu finds himself with the most powerful opponent ever he's ever faced and ultimately surrenders. Seeing this, Gildarts lets him pass, telling Natsu that he learned an important thing that is needed to be an S-Class Mage.
Summary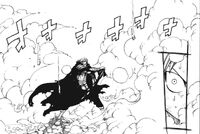 The many Natsu's charge at Gildarts, but he flings some of them away with his cape. However, the little Natsu's remaining charge at him, pulling on his face and hair and burning his face. Annoyed, Gildarts reassembles Natsu, giving Natsu a chance to strike back. Natsu attacks with Crimson Lotus: Exploding Flame Blade, but in the aftermath Gildarts still stands unharmed. Happy is surprised that it did nothing, but Natsu notices that it forced Gildarts to move back a little bit, something Gildarts hadn't done the whole time. Gildarts comments on Natsu's strength, but Natsu tells him to stop and that he has to defeat him to become an S-Class Mage. Gildarts says he knew he would say that and that's why he won't go easy on him.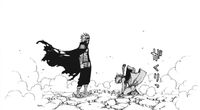 Gildarts tells Natsu that he is missing a key item to become an S-Class Mage and releases a large amount of his Magic Power, causing the whole island to shake, and even catching the attention of Lucy and Cana. Overwhelmed, Natsu still tries to fight back, but, at last falls to his knees, realizing Gildarts was just too powerful to defeat. Gildarts stops and smiles. He tells Natsu that his fear is not weakness and that part of being an S-Class Mage means realizing when you're defeated, but then using that defeat to become stronger. Gildarts passes Natsu and tells him to go become an S-Class Mage.
Characters in Order of Appearance
Battles & Events
Magic, Spells, and Abilities used
Magic used
Spells used
Abilities used