Natsu vs. Gildarts is the 205th chapter of Hiro Mashima's Fairy Tail.
The battles between the S-Class and the candidates begin with Juvia and Lisanna fighting Erza on Route D while Elfman and Evergreen face Mirajane on Route A. Meanwhile, Natsu and Happy encounter Gildarts and engage him in battle.
Summary
On Route D, Lisanna and Juvia fight a difficult battle against Erza, who is utilizing the water-nullifying powers of her Sea Empress Armor. Juvia states that she will win against Erza, using Water Slicer, but the S-Class Mage dodges it. Lisanna attacks Erza with her Animal Soul: Wings but Erza, once again, dodges. Erza quickly attacks both of them, resulting in their immediate defeat.
On Route A, Evergreen and Elfman face off against Mirajane, who states that she won't go easy even on her younger brother.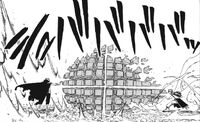 On Route E, Natsu and Happy faces Gildarts. Natsu quickly runs into Gildarts and tries to attack him with his Fire Dragon's Iron Fist but Gildarts stops it with his bare hand. He then blocks all his punches with ease and throws Natsu, but he regains his balance quickly and uses Fire Dragon's Roar, but Gildarts disassembles the entire attack, however, his Magic accidentally hits Natsu himself, causing the Dragon Slayer to disappear. Happy cries, claiming Gildarts went too far, but Gildarts states that the Magic he used is just to disassemble, not kill.
Suddenly, numerous, tiny Natsus fall from above and Gildarts says Natsu loses but the tiny Natsus state that they haven't give up yet, making Gildarts smile.
Characters in Order of Appearance
Battles & Events
Magic, Spells, and Abilities used
Magic used
Spells used
Abilities used
Armors used
Weapons used