Demon God Dragneel is the 196th chapter of Hiro Mashima's Fairy Tail.
As the Magic continues to leave Edolas, the floating islands begin to crumble and plummet to the ground. Meanwhile, Mystogan and Panther Lily are arguing about Mystogan's plan. However, their conversation is cut short when they are informed that Natsu, Gajeel and Wendy are terrorizing the town. The three Dragon Slayers take the role of the villains and challenge Mystogan, revealing him as the prince of Edolas.
Summary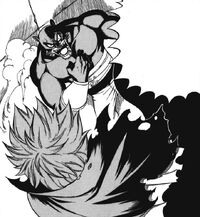 As the Reverse Anima begins to suck the Magic out of Edolas, Mystogan tells Panther Lily to kill him and lead the nation as its new King. Panther Lily refuses and yells that Mystogan needs to take the responsibility of leading his nation, like he was meant to and that the people need someone with an iron will. Panther Lily then says he will be the villain. While Extalia crashes to the ground, Panther Lily and Mystogan continue to argue, and neither of them are willing to let any of them be the villain. Just then a guard comes in telling them somebody is terrorizing the town.
The news causes an abrupt stop to the argument as Panther Lily and Mystogan head outside to check on the riot. The two are then surprised to see Gajeel, Wendy and Natsu destroying the city. Natsu claims that he is the evil Great Demon Lord Dragneel. He lies to the people and says he is stealing all the Magic and shows a defeated Faust to strengthen his statements. He then urges Mystogan, addressing him as the Prince of Edolas, to fight him by attacking the people. Nadi then appears in front of Mystogan and Panther Lily and tells them he was the one who told the Dragon Slayers about what was going on, so now they can be heroes and lead the nation. Mystogan then runs towards Natsu, as Nadi tells Panther Lily to prepare for what's going to happen next.
Characters in Order of Appearance
Battles & Events
Magic, Spells, and Abilities used
Magic used
Spells used
Abilities used