King of a New World is the 195th chapter of Hiro Mashima's Fairy Tail.
Natsu, Gajeel, and Wendy finally defeat Faust. But before they can celebrate, the floating islands start falling, which means the Magic of Edolas is disappearing. Because of this, the Royal Army, the citizens and Edolas Fairy Tail panic and lose hope. Mystogan then tells Panther Lily to execute him and become the new King.
Summary
Natsu and Faust fall to the ground. Faust is terrified by the Dragon Slayers powers and cannot believe he wanted to control something like that. Three "Dragons" appear in front of him which frightens him severely, causing him to faint. The three Dragon Slayers begin to celebrate their victory. Just then they all feel an "earthquake," and look up and see all the floating islands falling.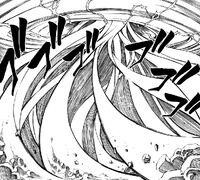 Shagotte realizes that Magic is leaving the world of Edolas and going to Earth Land. In the palace, Mystogan tells Panther Lily he is responsible for it, and that it is the right thing to do. He claims for the sake of the new world, Edolas must be destroyed once. Everyone freaks out when all their magical weapons stop working and they believe the world is ending. The army flees from Edolas Fairy Tail as islands continue to fall. Gray and Lucy says that it will be alright but everyone still believes that they cannot live without Magic. Mystogan goes up to Panther Lily and tells him the world will need a new leader. Lily believes that it will be Mystogan as he is the prince, but he says it's not him. For a leader to be made, Mystogan believes he must be the villain whom the hero must defeat, since he took the Magic away. He urges Panther Lily to play the hero and become King of the new world.
Characters in Order of Appearance
Battles & Events
Magic, Spells, and Abilities used
Magic used
Spells used
Abilities used