I'm Standing Right Here is the 194th chapter of Hiro Mashima's Fairy Tail.
The three Dragon Slayers struggle in their battle against the Dorma Anim. They all use their Dragon slayer roar's at the same time causing a huge explosion. Thinking they defeated it, they then look up to see that the machine jumped in the air and avoided the attack. It counters with Dragon Rider's Spreader Cannon that wipes them out in a single hit. Even when it looks like there's no more hope, Natsu encourages them to keep fighting...
Summary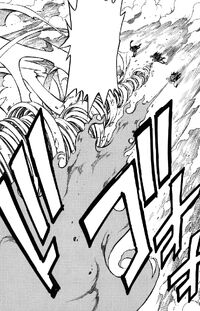 Natsu, Gajeel, and Wendy are still struggling in their battle against the Dorma Anim. In a desperate attempt, they all use their Dragon Roar to take it out. The combined strength of their attack causes a huge explosion.
Though it seemed for a moment as if it worked, it is revealed that the Dorma Anim jumped to avoid it. As they attempt to do it again, Faust strikes first with Dragon Rider's Spreader Cannon flooring the Dragon Slayers. Faust then tells the injured Dragon Slayers to give up and become their worlds Magic Power. Natsu does get up and tells everyone not to give up and shouts at Faust that he is still standing. He gets annoyed and stomps Natsu, but he holds it up, and tells Wendy and Gajeel to get up because he is about to use, "Tomorrow's Worth".
| | |
| --- | --- |
| | |
Wendy is clueless, but Gajeel knows what he means. Gajeel uses his Iron Dragon's Club and traps one of the machines legs into the ground so it cannot jump. Natsu then asks Wendy to use her Roar on him. She trusts Natsu and uses Sky Dragon's Roar on him, who uses the spin from the breath to power his flames and uses Fire Dragon's Sword Horn. This makes all the Dragon slayers appear as Dragons. "The Fire Dragon," rips through Dorma Anim, defeating Faust.
Characters in Order of Appearance
Battles & Events
Magic, Spells, and Abilities used
Magic used
Spells used
Abilities used
Weapons used