Welcome Home is the 175th chapter of Hiro Mashima's Fairy Tail.
In order to find a way to free their friends, the team follows Carla's directions and tries to infiltrate the castle from underground. However, they soon find themselves surrounded by the Royal Guards who welcome Happy and Carla and thank them for capturing the intruders.
Summary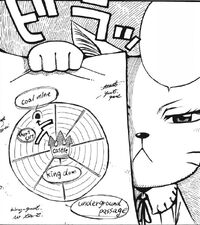 After seeing their friends transformed into Lacrima, the team regroups and thinks of a plan to save them. Carla tells the group that they need to get to the king and ask him how to change their friends to normal. Wendy thinks that it is impossible while Natsu thinks that they should force the King to tell them. However, Lucy suggests that they use Gemini who would transform into the King in order to find the way to change the Lacrima to normal. But Lucy says that they need to get close to the King for Gemini to transform. Everyone thinks it's impossible but Carla shows them a map that she made about an underground passage that will lead them to the basement of the castle.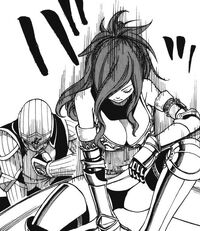 The team then decides to put their action later that night. Once at the entrance of the coal mine, Lucy summons Taurus to break into the passageway. While walking, Happy voices his confusion as to why he doesn't get any information about Edolas just like Carla, but knowing that his promise to her before going into Edolas, he doesn't ask her too much. The team then ends up in the entrance of a cavern and suddenly finds themselves ambushed by the Royal Guards headed by Erza Knightwalker. The guards binds Lucy, Natsu, and Wendy with jelly-like substances coming from their spears. Knightwalker then notices Happy and Carla and bows down to them. The guards follow her example and Knightwalker welcomes them home and thanks them for capturing the intruder, much to the team's surprise.
Characters in Order of Appearance
Battles & Events
Magic, Spells, and Abilities used
Magic used
Spells used
Abilities used
Weapons used
Items used