Dragon's Roar is the 150th chapter of Hiro Mashima's Fairy Tail.
The sky battle between the Fire Dragon Slayer and the Poison Dragon Slayer rages on. Initially, Cobra overwhelms Natsu with his poisonous attacks but Natsu ultimately claims victory due to his ear-splitting roar and Cobra's enhanced hearing acting against him.
Summary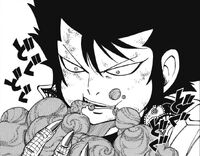 With his power as the Poison Dragon Slayer, Cobra is able to overwhelm Natsu and Happy. After sending a barrage of punches and kicks, Cobra eats Cubellios' Poison Mist to replenish his strength and to attack with Poison Dragon's Roar, an attack that poisons Natsu and Happy. With Happy's movement halved, Natsu is unable to attack Cobra.
Due to this Natsu tells Happy to drop him on top of Cobra, planning to use his own roar. Cobra laughs and tells him that he can read his mind. However, this doesn't bother the Fairy Tail Mages as Happy lets go of Natsu who plummets to the ground. But before Natsu can use his roar, Cobra grabs hold of the back of his head, aiming to crush it to the ground. In frustration, Natsu lets out an ear-splitting roar that can be heard throughout the city. Natsu's yell proves to be fatal to Cobra, whose enhanced hearing acts as a double-edged sword. Cobra then falls, defeated while Brain ponders what kind of guy Natsu is.
Characters in Order of Appearance
Battles & Events
Magic, Spells, and Abilities used
Magic used
Spells used
Abilities used