The Super Aerial Battle!! Natsu vs. Cobra is the 149th chapter of Hiro Mashima's Fairy Tail.
Lucy and Gray, having met Jura and the newly turned Hoteye, encounter Midnight. Hoteye volunteers to fight him, beginning the battle between comrades. Meanwhile, Natsu and Happy continue fighting an uphill battle against Cobra and Cubellios. As Natsu begins his counterattack, Cobra reveals his secret: he is the Poison Dragon Slayer.
Summary
The battle between Natsu and Happy versus Cobra and Cubellios continues. However, Natsu and Happy are still unable to land a hit on Cobra due to him using his "hearing" to anticipate all their movements.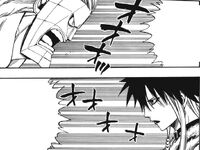 Meanwhile, Lucy and Gray manage to finish climbing Nirvana and immediately bump into Jura and the Nirvana affected Hoteye. As Hoteye reveals the history of Nirvana and Brain's location, Midnight appears and attacks them, destroying the houses on either side of the street. Fortunately, Hoteye managed to liquefy the ground before the attack connects, saving the group. Hoteye then reveals his real name to be "Richard" and tells the group to stop Brain as he fights Midnight himself.
Meanwhile, up in the sky, Happy concludes that Cobra's Magic enables him to read his opponent's movements. Happy and Natsu tries to think of a plan, but Cobra is able to read every part of it. An angry Natsu charges at him and after some time, begins to attack without thinking, resulting in him hitting Cobra. Cobra then realizes that he needs to be serious and stops their next attack with his hand, revealing to Natsu and Happy that he is the Poison Dragon Slayer.
Characters in Order of Appearance
Battles & Events
Magic, Spells, and Abilities used
Magic used
Spells used
Abilities used
Community content is available under
CC-BY-SA
unless otherwise noted.