March of Destruction is the 148th chapter of Hiro Mashima's Fairy Tail.
With Nirvana's activation, the battle between the alliance and the Oración Seis continues to rage on. In order to stop Brain, Natsu and Happy fight Cobra and Cubellios. Meanwhile, Wendy and Carla realize that Brain's plan involves destroying their guild: Cait Shelter.
Summary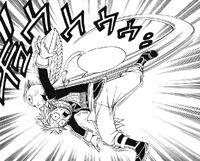 With Brain releasing Nirvana's true form, the members of the alliance decide to scale Nirvana, in order to try and stop him. Climbing up one leg, Natsu's motion sickness kicks in, hindering him, and causing him to accidentally fall off. Luckily, Happy arrives, catching him in time and the two head towards Nirvana, leaving Gray and Lucy to follow them.
Meanwhile, Brain is seemingly controlling Nirvana from the pinnacle of a tower located in the middle of the city. He reveals to Cobra that their goal is to destroy a particular guild and commands Nirvana to heads towards it. Suddenly, Natsu and Happy arrive and attack with a Fire Dragon's Roar. Brain orders Cobra to get rid of Natsu and Cobra uses Cubellios to attack the two Fairy Tail Mages. Cubellios then sprouts wings of its own, surprising Natsu and Happy. After learning from Cobra that Brain is controlling Nirvana, Natsu tries to attack, but is intercepted by the Dark Mage who reveals that he can hear Natsu's movements.
Elsewhere, Wendy and Carla arrive at Nirvana. Carla asks Wendy about her plan and Wendy tells her that she will try to stop Nirvana no matter what. Suddenly, Carla tenses up and realizes that Nirvana is moving towards their guild: Cait Shelter.
Characters in Order of Appearance
Battles & Events
Magic, Spells, and Abilities used
Magic used
Spells used
Abilities used